A River of Sound
<![if !supportEmptyParas]> <![endif]>
Virgin CDV 2776; 63 minutes; 1995
<![if !supportEmptyParas]> <![endif]>
Strings, percussion, saxophone, keyboards, koras (African harp), Irish harp, fiddle and bouzouki come together on a piece of music which signals the position of Irish music as it enters into its third millennium. Reaching into the past, it also extends itself into the wider world and out into the future, enriched and enriching in the process. (Extract from the notes to the title track, A River of Sound)
<![if !supportEmptyParas]> <![endif]>
Can anybody seriously suggest that the music that this describes signals the position of Irish traditional music as it enters into its third millennium? Where can a place be found here for the spirit of the authentic solo performer from West Cork or South Armagh, in this Hiberno-Jazz scrubbed clean of roots, ritual and balls? (Tony Mac Mahon, Music of the Powerful and Majestic Past in Crosbhealach an Cheoil/The Crossroads Conference 1996)
<![if !supportEmptyParas]> <![endif]>
Hindsight, of course, is a wonderful device, especially when equipped with 20x20 vision, as Persig so eloquently elucidated in Zen and the Art of Motorcycle Maintenance. Glancing back, some eleven years on, it seems hard to fathom the fuss that enveloped the broadcasting of the A River of Sound television series, a joint RTÉ and BBC Northern Ireland production written and devised by Micheál Ó Súilleabháin with collaborators Philip King and Nuala O'Connor from Hummingbird Productions. The latter pair's previous TV series on the links between the traditional music of Ireland and the USA, Bringing It All Back Home, had evoked vituperative criticism within Ireland, but the pomp and circumstance surrounding A River of Sound engendered an extraordinary divisive response. President Mary Robinson herself launched the series via a concert party at Dublin Castle and, shortly afterwards, an entire edition of RTÉ's enduringly popular The Late Late Show was devoted to the forthcoming series. That programme featured a foretaste of some of the music which would subsequently feature in the series and dissolved into uproar when one of its guests, Clare accordionist Tony Mac Mahon, responded negatively to Gay's questioning regarding the music he had just heard, 'led by a roar of "begrudger!" from one distinguished member of the audience, one who speaks with an assumed authority about an art form, the expression of which lies far beyond the borders of aspiration' (Crosbhealach an Cheoil, p. 113).
<![if !supportEmptyParas]> <![endif]>
<![if !vml]>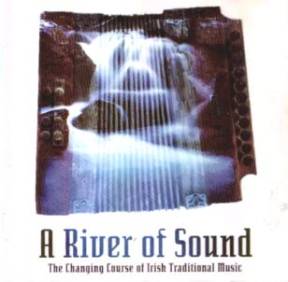 <![endif]>While elsewhere in the cosmos others were rather more concerned with the Iran-Iraq conflict or increasingly volatile border skirmishes between India and Pakistan Ireland seemed to dissolve into a massive navel-gazing crisis regarding its musical traditions, fuelled by further TV interviews and vitriolic exchanges between correspondents to various national newspapers.
<![if !supportEmptyParas]> <![endif]>
Since the whole project had emerged from University College Cork, where Ó Súilleabháin was Head of Music, it was unsurprising that the CD which emanated from TV series features one of his own compositions (Ah Sweet Dancer), his resonant piano-inspired arrangement of Turas go Tír na nÓg (which manages to suggest both a touch of the cocktail lounge and, simultaneously, Gershwin) and a co-arrangement with low whistler Cormac Breatnach of Carolan's Sí Bheag, Sí Mhór. Ó Súilleabháin also provides the piano accompaniment to Christy Moore's rendition of The Two Conneeleys , plays the same instrument on Máirtín O'Connor's Wind in the Woods and, suggesting homage to Ó Riada, plays harpsichord on a couple of tracks. Several of Ó Súilleabháin's alumni also appear on the album, including Niall Vallely and Mel Mercier.
<![if !supportEmptyParas]> <![endif]>
However, it was the title track which aroused Tony Mac Mahon's ire, an eleven-minute opus co-composed by Micheál and Dónal Lunny which features classical percussionist Evelyn Glennie, two kora players (T. Jegedeh and M. Jobarteh – the liner notes do not give their full names), Laoise Kelly on harp, a five-piece string section, two bodhrán players, fiddler Nollaig Casey, Brendan Power on harmonica, saxophonist Kenneth Edge, and the two composers providing respectively piano and harpsichord and bouzouki and bodhrán.
<![if !supportEmptyParas]> <![endif]>
The piece itself suggest not so much A River of Sound as a trickle through the ideas generated by more innovative collaborations, not least the two startlingly creative Songhai albums made by the Spanish band Ketama with kora player Toumani Diabaté and bassists Danny Thompson (on the first LP) and Javier Colina (on the second, which also featured Spanish fiddler Bernardo Parilla and Malian singer Kassemady Diabaté). A River of Sound certainly exhibits the adroit skills of its instrumentalists, but, eleven years on, seems pale, wishy-washy and ersatz – a kind of Camp coffee extract compared to Songhai's full rich Mocha.
<![if !supportEmptyParas]> <![endif]>
Writing the introduction to the CD, Ó Súilleabháin waxed lyrically that:
<![if !supportEmptyParas]> <![endif]>
As Irish music flows into that great singing ocean of music which is surfacing in our own time around the globe, it is timely to chart its course so that the flow may be more abundant. It is also good to chart the riverbanks in a time when root and identity are challenged in a single world of electronic vision. Finding the most fruitful balance of source and course, font and flow, tradition and innovation, demands that we know who we are. Feeling for the river-banks invokes that knowledge.
<![if !supportEmptyParas]> <![endif]>
His series and this CD attempted to establish that identity by providing paradigms. Alongside the tracks previously mentioned there are traditional tracks by Altan's Ciarán Tourish and Dermot Byrne, fiddler Eileen Ivers, piper Ronan Browne, and the two pairings of Séamus Begley and Stephen Cooney and Frankie Gavin and Máirtín O'Connor. Laoise Kelly plays three of piper Brendan Ring's newly-composed jigs, Niall Vallely offers his own selection of reels, while Mel Mercier and group provide a hearing for one of the percussionist's own compositions. Tellingly, there is only one song on the entire album, Iarla Ó Lionáird's Caoineadh na dTrí Mhuire.
<![if !supportEmptyParas]> <![endif]>
If such a combination was intended to determine Irish musical identity, then the upshot is that its character must be very disparate indeed and runs the gamut from Gavin's shots at recreating the sound of 1920s 78s to attempts to meld the sound of the bodhrán and bones with instruments as varied as the Javanese ciblon drum and Indian bells. Ultimately, therefore, this album reveals very little beyond the then current preoccupations of its amanuensis.
<![if !supportEmptyParas]> <![endif]>
So was Tony Mac Mahon wrong to reject the ideas represented by A River of Sound? Well, yes and no. Tellingly, Ó Súilleabháin's CD notes also reflect that the album was 'a window on what happened during the television series of the same name'. It would be extremely hard to identify any alteration in the flow of Ireland's musical current or pinpoint any development which occurred as a result of the screening of the series and the album's release, other than the staging of the 1996 Crossroads Conference on tradition and innovation. While the mounting of that event resulted in debates provoking various disputes between participants in the rooms of the Temple Bar Music Centre, not least Séamus Tansey's typically acerbic and atavistic contribution, the rest of us had to wait another three years until 1999 before the conference's proceedings were published and, by then, the world and Irish music, had moved solidly onwards.
<![if !supportEmptyParas]> <![endif]>
Mac Mahon's major criticism of A River of Sound was that it largely ignored the individual musician, citing as his source Breandán Breathnach's definition of traditional Irish music as essentially the art of solo performance. Yet one suspects that Tony was battling unrewardingly against the encroaching tide, the omnipresence of the session and the inevitable drift towards ensemble playing. While musicians will always provide entertainment for their friends and neighbours, the public persona of Irish music today is very much that of the group experience and one in which, sadly, singing plays relatively little part.
<![if !supportEmptyParas]> <![endif]>
In conclusion, therefore, perhaps A River of Sound was not so much a statement of intent, but a snapshot of the state of mind of just a small section of the Irish musical character.
<![if !supportEmptyParas]> <![endif]>
Geoff Wallis
<![if !supportEmptyParas]> <![endif]>
11th April, 2006
<![if !supportEmptyParas]> <![endif]>
---
<![if !supportEmptyParas]> <![endif]>