Séamus Begley & Jim Murray
Ragairne
Dara TORCD1132; 49 mins; 2001
Séamus Begley's last album, 1993's Meiteal, made with guitarist Stephen Cooney was inevitably going to be a hard act to follow. Though no one quibbled about the sheer vivacity of Begley's accordion style nor the beauty of his singing, some critics viewed Cooney's use of bass guitar, keyboards, bells and even didgeridoo as inappropriate to the tradition. Others, however, saw Steve's overtly percussive guitar style as the bedrock of one of the best partnerships in traditional music. No matter, for the pair took it all in their admirable stride, their popularity cemented by nationwide tours and a regular spot at Dingle's An Droichead Beag pub. After playing together for twelve years, increasing demands for Cooney's services as a producer saw an amicable dissolution (and they still play together whenever Steve's down in Kerry). Séamus has often also played with the London-born guitarist Tommy O'Sullivan who was a regular figure in North London's Irish music pubs, such as The Victoria, in the 1980s, and now tours with piper Paddy Keenan. <![if !vml]>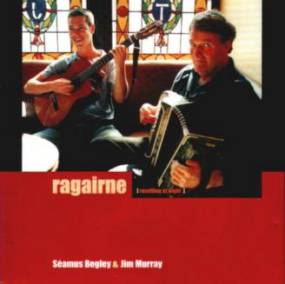 <![endif]>
Three years ago Séamus teamed up with the young Jim Murray (from Macroom in West Cork and a former pupil of Steve Cooney's) and the results of their combination can be heard on Ragairne which someone has decided to translate as 'revelling at night' ('ragairne' simply means 'revelry').
As anyone familiar with Séamus's repertoire would anticipate, there are plenty of Kerry polkas and slides here and played with all his characteristic verve and the rhythmic power that derives from his farmer's forearms. His single-row melodeon gets an outing too on a set of tunes aptly entitled The Melodeon Reels.
Séamus's choice of songs is impeccable, with one glaring exception. Most noteworthy perhaps is the plaintive Sliabh Gheal Ghua, a migrant's lament for the mountain of his homeland, while An Ciarraíoch Mallaithe ("The Accursed Kerryman") sees Séamus joined by Mary Black in a vocal performance that recalls her early career, rather than more recent soft rock dabblings. Purists should note that all the songs have instrumental backing, but of the most understated kind, thanks to Murray's guitar and Tríona Ní Dhomhnaill's vaseline-coated keyboards.
The exception noted above is an extraordinarily out-of-place rendition of The Early Morning Rain, the best-known song by the Canadian singer-songwriter, Gordon Lightfoot. The problem here is twofold. Firstly, it sticks out like the sorest sore thumb in a sore thumb convention, surrounded by polkas one side and slides on the other. Second, although Séamus is one of the most expressive singers around and can readily be believed to be pining for his homeland mountain or bemoaning the torments of unrequited love (as in Cailín Bán), credence is simply overextended when Séamus sings "You can't jump a jet plane like you can a freight train". So make sure that your CD player is programmed to skip track five.
Lastly, Jim Murray proves himself to be a guitarist well capable of stepping out from under Cooney's mighty shadow and versatile both as a fingerstyle and hard-strumming accompanist, while also able to pick his own set of hornpipes, The Homeruler/Paddy Fahy's.
As a footnote, all song lyrics are included and translations provided, but brief notes on the tunes and songs only appear in Irish (though, if you've not the language nor a dictionary, it's still possible to work out their meaning).
---
This review by Geoff Wallis was originally written for Musical Traditions - www.mustrad.org.uk.
For more information about Dara Records - www.irelandcd.com
---
<![if !supportEmptyParas]> <![endif]>