Bríd Ní Mhaoileoin with Alan Burke
Ar Mhuin na Muice
Haban Records HABRCD001; 42 minutes; 2004
The cover of the liner very much reflects the life of singer Bríd Ní Mhaoileoin who was born in Kenya, but brought up on the Rosguill peninsula and now lives in Austria. As a youngster she was part of the family group Ceoltóirí Ghoill alongside her four brothers and sisters which, in her own words, played "at festivals from Ballyshannon to Lorient and from Dolgellau to Staten Island". As a picture inside the liner confirms, Bríd was the group's bodhrán player and she was taking on more of its singing duties when the band split in 1985. She was lost to music for some fifteen years, so Ar Mhuin na Muice is very much a welcome return and the title ("in luck") a sign of her hopes for a bright musical future. <![if !vml]>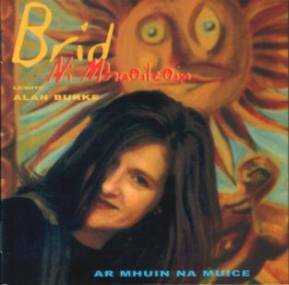 <![endif]>
Before remarking on the album's music, it is well worth noting that Bríd has certainly not stinted on the presentational aspect of this release. The liner is some twenty-four pages long and, in addition to the striking painting used on its cover ("Die Sonne" by Manfred Url), is both excellently designed and includes not just information on the sources of the thirteen songs featured on the CD, but their lyrics and translations. In addition, her website (see below) includes such details as the correct pronunciation of her name, information on the musicians involved in the recording, examples of alternative lyrics, more notes on the tunes and, as she points out, all of these are in much bigger print (though nobody will have difficulty reading the liner itself). Sure, there's the odd typo, but Bríd can be absolved considering the overall care clearly apparent in the production of this CD. If only more independent releases would follow her lead!
Though stylistically Bríd's Donegal roots are very much apparent, her choice of material is more cosmopolitan. Donegal songs include the area's version of 'Nion a Bhaolaigh which came via her mother from the Rannafast singer Aodh Ó Duibheannaigh (Hugh Devanney<![if !supportFootnotes]>[1]<![endif]>) and Brid Óg Ní Mhaile, plus a revised version of Máire Bhruithneal which owes more to Áine Uí Laoi than Clannad. Additionally, there is an intriguing rendering of An tSeed Cá raibh tú ar feadh an lae uaim?, sung to the tune of Johnny, Lovely Johnny and an unusual version of An tSeanbhean Bhocht which employs a melody found on Seosamhín Ní Bheaglaoich's solo album. Stir into the brew the Connemara song Bideach na gCarad, the children's ditty Ailiú Éanaí and a version of the well-known Green Grows the Laurel and this all adds up to a compelling collection.
Bríd's mellifluous tones are perhaps at their best on a multi-tracked a capella rendition of 'Stor a Stór a Ghrá in the company of her brother Pádraig, but of equal merit is the rousing Maire Bhruithneal, which features some splendid work from Francis McIlduff (one of two pipers to appear on the album, the other being the Derry man Joe McHugh, known for his work with Sean Nua and the hammer dulcimer player Barry Carroll). However, a personal favourite remains a sprightly rendition of Caidé sin don tsé sin? which thoroughly breathes new life into a song made familiar by Altan and Maighread Ní Dhomhnaill. Bríd is also willing to take a back seat, providing backing vocals, while her producer and arranger, guitarist and bouzouki player Alan Burke takes the lead on An Trucaillín Donn, and a spirited version it is too, reflecting the consideration and verve of much of Alan's contribution to the album.
Though Bríd's voice might occasionally seem to waver away from the pitch to some ears, those same lugholes should bear in mind that such practice is common in Donegal and, all told, there is no doubting that this is an exceptionally able debut enhanced by fine musicianship from Alan Burke, the aforementioned uilleann pipers, Kate Dunne's accordion, Kevin O'Connor's fiddle and some unobtrusive bass-work from Wolf Zwiauer. For this reviewer, it's gratifying too to discover that the tweed designer from Downings, John McNutt, is also a fine songwriter (as evinced by The Fuschia, possibly the first song ever to use the word "dissipate") and, indirectly, bringing back happy memories of times past spent in Downings' Harbour Bar.
<![if !supportEmptyParas]> <![endif]>
Geoff Wallis
<![if !supportEmptyParas]> <![endif]>
17th August, 2004
<![if !supportEmptyParas]> <![endif]>
---
<![if !supportEmptyParas]> <![endif]>
For more information about Bríd and Ar Mhuin na Muice visit www.brid.at.
<![if !supportEmptyParas]> <![endif]>
The album is also available from Claddagh Records.
<![if !supportEmptyParas]> <![endif]>
---