Champions of Ireland (Connoisseur Records)
Denise Shiels - Accordion
CRCD 3030; 36 minutes; 2000
Grainne Kelly & Ciarán Marsden - Tin Whistle
CRCD 3012; 33 minutes; 2000
Con Durham - Uilleann Pipes
CRCD 3052; 43 minutes; 2000
These three albums form part of a series from Dublin's Connoisseur Records, the other three releases focussing on the bodhrán, the harp and céilí bands, yet despite the presence of the date 2000 these are not new recordings. My attempts to ascertain more information about the musicians has not proved too successful, but, tellingly, one informant reckoned that Denise Shiels was active in the 1980s. That the notes to her album describe it as being "critically acclaimed as one of the best accordion albums to date" clearly reinforces the view that these are not new recordings.
The series format is easily identifiable from the liner notes. Each cover features the appropriate instrument in a typically bucolic setting (though some might argue that the designer has missed a trick in depicting only the instruments of the céilí bands scattered around a stream and not their members). The bodhrán too is pictured resting on a rock, invitingly ready for the woodman's axe.
Inside, readers will find a two-page summary of the appropriate instrument's history printed in almost illegible white capitals against another rural background. The content itself, while written in varying degrees of quality, often reveals some quite startling assessments and interpretations. Thus we are told of the accordion that one of the most "important differences between the instruments of that era and those of today" is that "Early accordions produced different notes on the press and draw of the bellows." Strangely, for an album dedicated to traditional music there is not a single reference to its role as a traditional instrument. Instead we learn that "Colleges and universities in the US now accept music students majoring in accordion, a fact which reflects the instrument's unquestioned legitimacy in classical music" and provided with a long list of rock acts who have employed the accordion, including such contemporary greats as Emerson, Lake and Palmer. <![if !vml]>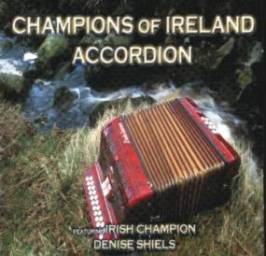 <![endif]>
Whoever penned the notes on the uilleann pipes deserves to have a chanter inserted in a sensitive orifice. This includes the belief that the pipes were banned by the British government in the post-Famine era, that the instrument "was nearly extinct by the early 1900s", that the Gaelic League was founded in the 20th Century and the odd suggestion in the sentence that "they continue to grow in popularity today due to such masters as Seamus Ennis, Paddy Maloney (sic), Leo Rowesome (sic) and Willie Clancy". However, readers might be tickled by the suggestion that the pipes were "the premiere (sic) instrument in Ireland" or the oddly put "this double reed is very sensitive and can be overblown" with its implication of piping destruction. Lastly, the anonymous author has clearly never heard a slow air since s/he includes this musical form in a list of tune types "guaranteed to get your foot tapping".
In contrast, the tin whistle notes are pretty lucid and accurate, even if the writer believes that there is only one form of low whistle, pitched in D, an inaccuracy which rang a large bell since I recall a similar statement in the relevant entry in The Companion to Irish Traditional Music. Lo and behold, turning to said entry reveals that these liner notes have been copied almost verbatim though no credit is given to either The Companion or the entry's authors, Hammy Hamilton and Fintan Vallely. Now, of course, it's by no means unknown for traditional musicians to receive no credits on albums (think of some of the Outlet releases or the two Na Connerys albums), but this is the first occasion to my knowledge where authors have been similarly treated. <![if !vml]>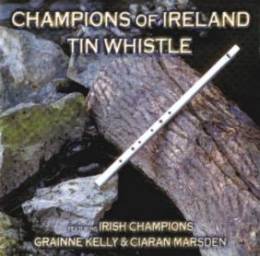 <![endif]>
In each case the notes then feature a double-page spread of Connoisseur products, including the enticing A Golden Hour of Romantic Irish Ballads, before moving on to a track listing and credits. (The best listing, by the way, is Mna Na hÉireann, on the (unreviewed) harp album which, in a reversal of chauvinist piggery is described as a "Sow Air").
Little information is provided about the musicians. Denise Shiels, we're told, "hails from Kilimor in the beautiful county of Galway" and is "recognised as one of the finest exponents of the button accordion in Ireland". Con Durham is a Dubliner, who learnt from Leo Rowsome and Dan O'Dowd and (cliché alert) has a "family background steeped in traditional music" and (hyperbole alert) "is a member of the legendary pipers' club, Na Piobaire Uilleann". Presumably, this is a reference to Na Píobairí Uilleann, but it's always possible that there might be some other "legendary" club consisting of only one piper, as "Piobaire" implies. Finally, Grainne Kelly and Ciarán Marsden "won many of Ireland's top awards" and "performed with the well-known Dublin group 'Brogue'". A quick dip into one of my Irish rock reference books turns up the statement "As 1972 drew to a close, bands and artists being tipped for success included Brogue (formerly Alyce)..." Since the list also features Thin Lizzy, Van Morrison and Rory Gallagher it's easy to spot which one missed out!
Let's move onto the recordings in ascending order of quality. Champions of Tin Whistle is almost entirely unlistenable consisting of often out-of-tune whistling and (horror of all horrors) accompaniment on one of those stunningly awful portable electric keyboards which graced the 1980s, the sort that sounded fine if the player selected "barking dog", but completely dire when "electric piano" was chosen. All this recording needs is the addition of a bossanova backbeat and the horror would have befitted Conrad's Heart of Darkness. The only two exceptions are the relatively well played unaccompanied airs, though it's completely unclear whether the protagonist is Grainne Kelly or Ciarán Marsden. <![if !vml]>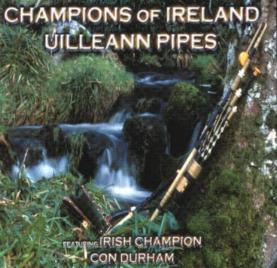 <![endif]>
Champions of Uilleann Piping is almost as dreadful. Here the producer, one Raymond J. Smyth, has opted for accompaniment from an electric guitarist and bassist, Jody Pollard. So, Con's obvious expertise is deluged by some of the crassest and inappropriate accompaniment imaginable with wild lead guitar licks to boot. As a review of an obscure 1970s rock band album which once appeared in Melody Maker stated ("the guitarist sounds as though he's wearing boxing gloves"), well, this bloke Pollard is a soundalike and was probably recruited from one of those bands tipped for success at the end of 1972. Perhaps he was the reason why Alyce became Brogue?
In complete and utter contrast, Champions of Accordion shines like a beacon of light in a morass of mediocrity and poor recording techniques. There are two simple reasons. Firstly, Denise Shiels is an excellent accordionist and, secondly, there is absolutely no accompaniment whatsoever. Unaccompanied recordings of accordionists are a rarity nowadays and, perhaps, as a result, the album has a dated feel. Partly, too, this might be because Denise favours an astonishingly bright sounding box which also enhances the precision of her playing. Most of the tunes are pretty familiar (The Salamanca, The Pigeon on the Gate, The Bucks of Oranmore, The Moving Cloud, etc.) thanks to numerous other recordings (though The Whore in the Nettles is a completely new one to me). Nevertheless, there's something innately refreshing about Denise's versions and this is an album lovers of the Irish accordion should definitely hunt down.
However, puzzlingly, the notes state that all the tunes were "arranged by Raymond J. Smyth" and the addition of the statement "All tracks Trad' Arr' Raymond J. Smyth" suggests that said R.J. Smyth has actually claimed the rights to these arrangements. Now I don't want to go into the nefarious manoeuvres employed by some record companies, but it does seem astonishing that this music which is clearly the product of Denise Shiels' expertise and experience in the tradition should be credited to the album's producer. But, that's probably enough said.
---
This review by Geoff Wallis was originally written for Musical Traditions – www.mustrad.org.uk.
For more information about Connoisseur Records – www.crashedmusic.com.
---
<![if !supportEmptyParas]> <![endif]>