Colm O'Donnell
<![if !supportEmptyParas]> <![endif]>
Farewell to Evening Dances
<![if !supportEmptyParas]> <![endif]>
Bogfire 2002; 65 minutes; 1999
<![if !supportEmptyParas]> <![endif]>
The Rocks of Bawn
<![if !supportEmptyParas]> <![endif]>
Coleman Heritage Centre CC003; 50 minutes; 2000
<![if !supportEmptyParas]> <![endif]>
Heart Strings
<![if !supportEmptyParas]> <![endif]>
Sound Records SUN CD40; 56 minutes; undated, but probably 2002
<![if !supportEmptyParas]> <![endif]>
---
<![if !supportEmptyParas]> <![endif]>
Whenever Ireland's greatest voices are debated a certain 'farmer, forester, shepherd and sheep dog trainer' from Kilmactigue in South Sligo seldom gets a mention. Indeed the same seems true when consideration is given to flute players and whistlers. In both cases the name of Colm O'Donnell is rarely referenced and those who are unaware of his talents are sorely missing a stroke. <![if !vml]>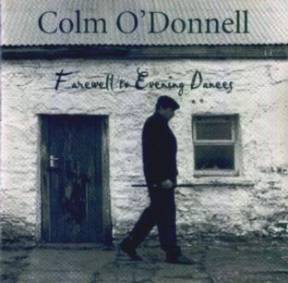 <![endif]>
<![if !supportEmptyParas]> <![endif]>
This reviewer was fortunate to witness Colm in concert in London a few years back when he appeared at the Return to Camden Town festival with accompanist Gary O'Briain and heard a singer whose voice was as sweet and soulful as the tune of his flute. Friends in Ireland's Northwest had several times urged me to catch Colm in session in Sligo, but our paths never seemed to cross. Luckily, some time before said concert, I had been initiated into the O'Donnell experience by Farewell to Evening Dances, one of a pair of glorious albums of music from County Sligo issued by James Fraher and Connie Scanlon on their BogFire label (the other was Kevin Henry's One's Own Place.
<![if !supportEmptyParas]> <![endif]>
Farewell to Evening Dances takes its title from The Hill of Knocknashee, one of seven songs which appear on the album. Here Colm's selection of songs ranges from Brian O'Rourke's comic venture The Bodhrán via classic songs of emigration and love (Erin Grá mo Chroí and A Stór mo Chroí) to Cúnla and Sigerson Clifford's The Boys of Barr na Stráide, all delivered to appropriate emotive effect. These are interspersed with a mix of tremendous tunes, including a spanking duet with his brother and co-flute player Séamus on Paddy Cronin's Jigs as well as a effervescent exploration of the reels The Maid of Mount Cisco and The London Lasses in cahoots with the late Frank McGann on bodhrán. If the album has a weakness it lies in Colm's penchant for droned keyboard accompaniments, as exhibited on The Hill of Knocknashee. Atmospheric on first hearing, these tend to become trite when applied with regularity to other songs, as his subsequent CDs reveal.
<![if !supportEmptyParas]> <![endif]>
<![if !vml]>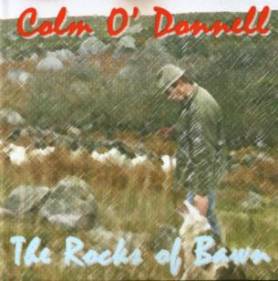 <![endif]>The first of these was The Rocks of Bawn, issued by Gurteen's Coleman Heritage Centre, at whose summer concerts Colm often appears. Firmly focused on the man's vocal talents the album consists of twelve songs and two lilted tracks, one of reels and one of jigs. There's some overlap in terms of songs from the previous album, but the overwhelming difference is the lack of accompaniment.
<![if !supportEmptyParas]> <![endif]>
Of course, such absence allows the O'Donnell larynx to shine and, for the most part, he's on top form with songs such as Pat Murphy's Meadow or The Banks of the Moy. The former places great stress on the singer's ability to soar through the octaves while the second requires vocal exploration of extended syllables. Colm proves a sublime master of both tasks, but also excels in the rhyming intricacies of Bailing Twine.
<![if !supportEmptyParas]> <![endif]>
Few Irish albums of unaccompanied singing in the English language have been released in latter years and The Rocks of Bawn is very much up there with the best.
<![if !supportEmptyParas]> <![endif]>
Sadly, similar praise cannot be applied to Heart Strings. Sometime earlier Colm released a Country and Irish album, The Singing Waterfall, on his own label and Heart Strings revisits that territory in part. The Hank Williams song which provided that previous album's title is back, as well as Dolly Parton's The Wrong Direction Home, the atrociously schlock opener Waltzing Time and an appallingly trite ditty called Connemara Rose.
<![if !vml]>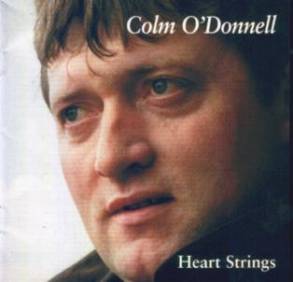 <![endif]>
When the traditional songs do appear, such as Bold Donnelly, they're cloying arrangements suggest that O'Donnell and producer O'Briain were under firm instructions from their label to aim for the Irish MoR market and, particularly, capture some of the Galway singer Seán Keane's market.
<![if !supportEmptyParas]> <![endif]>
Words such as 'cloying' and 'crass' spring to mind on hearing the murderous renditions of Far Away in Australia or The Moorlough Shore. The last track, The Boys of the County Mayo, firmly sets its stall in the dewy-eyed ex-pat quarter.
<![if !supportEmptyParas]> <![endif]>
Furthermore, the label appears to have instructed that Colm's venture into the Keane market should incorporate photographs of enigmatic poses in the liner booklet. Now, like my own, Colm's visage is unlikely ever to be considered for some 'World's 100 Sexiest Men' article in a downmarket magazine, so getting him to pose in hypothetical romantic settings proves to be a positive disaster. In the first picture he's shown leaning over a wall. It's meant to be a moody shot, but he appears to be watching his debit card being destroyed by a tenacious bank manager. In the second he's leaning against a higher wall, right hand seemingly delving into the pocket of his jeans to find his car keys prior to tossing them onto the table in some South Sligo flute-swapping party, and the crouching third image reveals a man clearly fed up with the whole photo shoot. Reading all the above references to Heart Strings it should come as no surprise that I found the album in a 99p bin in a Belfast record shop.
<![if !supportEmptyParas]> <![endif]>
So ignore Heart Strings, but please do investigate Farewell to Evening Dances. You really will not be disappointed.
<![if !supportEmptyParas]> <![endif]>
Geoff Wallis
<![if !supportEmptyParas]> <![endif]>
11th May, 2006
---
<![if !supportEmptyParas]> <![endif]>
<![if !supportEmptyParas]> <![endif]>