Cran
Music from the Edge of the World
Click on the title above to head straight to the review
---
Claddagh CC63CD; 48 minutes; 1998
For anyone fed on a diet of Irish traditional albums, Black Black Black proved a shock in more ways than one. Instead of a typical cover, say a musician with instrument or a photograph of some dreamy Connemara landscape, here were three men of a certain age, dressed in black, and staring with an insouciant intimacy at the camera lens. Then there was the stark gravity of the title, suggesting a triplication of the depths of despair, and lastly the band's arcane name itself, taken from a term used to describe a form of stylistic ornamentation employed by uilleann pipers. <![if !vml]>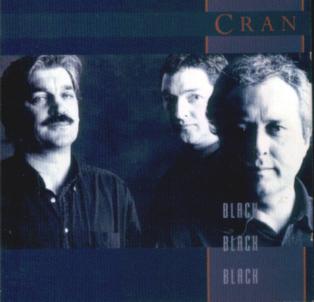 <![endif]>
<![if !supportEmptyParas]> <![endif]>
If such was not enough, the sombre theme continued inside the liner where the track listings were presented in white type on a black background, supplemented by even more austere monochrome photographs of the trio. There was to be one final shock in store, for the album's co-producer, alongside the band, was not one of Ireland's alumni such as Dónal Lunny or P.J.Curtis, but the American Shel Talmy - yep, that Shel Talmy of Swinging Sixties renown, producer of such hits as The Who's My Generation, The Kinks' You Really Got Me and The Easybeats' Friday on My Mind. "It was enough," as P.J. told me, "to believe that I'd never work in Ireland again." Fortunately, this proved not to be the case.
<![if !supportEmptyParas]> <![endif]>
Thoroughly intrigued by now, it was time for a spot of research. Cran's first album, The Crooked Stair, had appeared way back in 1993, released by Cross Border Media, an obscure Meath-based label which sank without trace, though plenty of legal shenanigans, just after the turn of the century. The original trio comprised the Drogheda-born singer, bouzouki-player and renowned song collector Seán Corcoran, alongside two multi-skilled Belfast musicians, the flute-player and singer Desi Wilkinson and the uilleann piper and cellist Neil Martin. By the time of Black Black Black, Ronan Browne (from a well-known Dublin musical family) had stepped in for Martin, providing uilleann pipes and whistles.
<![if !supportEmptyParas]> <![endif]>
A sketch of Cran's history, however, can never adequately elucidate why Black Black Black is such an engrossing album. It takes a touch of "draíocht" ("magic"), as fiddler Martin Hayes might say, to explain that.
<![if !supportEmptyParas]> <![endif]>
Earlier Irish traditional group albums regarded as classics, say The Bothy Band's 1975, Planxty's self-titled debut or Altan's Island Angel, had relied on individual virtuosity, dynamic interplay and consummate singing to justify their reputations. Black Black Black has all of these and something more. In part there's an overall resonance to the album, part Talmy's studio technique, but also engendered by the presence of Ronan's pipes and his subtle use of their drones. This is fortified by the occasional employment of strings, the presence of Tríona Ní Dhomhnaill's clavinet and harmonium and the choir Anúna, and, perhaps above all, the characteristic vocal harmonies focal to Cran's work.
<![if !supportEmptyParas]> <![endif]>
The tune and song choices are exemplary too, but it's their arrangement that is ultimately the stunning element in Cran's confection. The simply structured song, Coleraine Town, acquires additional strengths through differing descending motifs constructed first by strings, then by the twin flutes of Wilkinson and Browne. Another song, Willie Taylor, sung unaccompanied offers exquisite variation in each chorus, while, Seacht Suáilcí na Maighdine Muíre, has a constant harmonium drone as a backing for Seán's vocal tour de force.
<![if !supportEmptyParas]> <![endif]>
Just as The Bothy Band's 1975 kicked off with the exhilarating Kesh Jig, so Black Black Black's opening track is a classic, the addition of Kevin Glackin's fiddle adding a compelling factor to the simple bliss of the Abbey Reel. Indeed, Kevin also returns for the closing track which commences with a bracing rendition of The Humours of Ballyloughlin, one of the most stuttery tunes in the Irish canon, where first flute and fiddle, then pipes, bouzouki and clavinet, bounce around vivaciously before Ronan heads off into Liz Kelly's Delight.
<![if !supportEmptyParas]> <![endif]>
And the title itself? Well it's a repetition of the opening word of Black is the Colour of My True Love's Hair, thought to have been delivered in triplicate by one Nina Simone, and delivered here as an air by the full faculties of Browne and Wilkinson. It's a dramatic centrepiece to an utterly dazzling album.
<![if !supportEmptyParas]> <![endif]>
Cran discography:
<![if !supportEmptyParas]> <![endif]>
The Crooked Stair (Cross Border Media CBM 002, 1993)
Black Black Black (Claddagh CC63CD, 1998)
Lover's Ghost (Black Rose Records BRRCD003, 2000)
Music from the Edge of the World (Black Rose Records BRRCD004, 2002)
<![if !supportEmptyParas]> <![endif]>
---
This article by Geoff Wallis originally appeared as a 'Classic Album' review in Songlines magazine - www.songlines.co.uk/
<![if !supportEmptyParas]> <![endif]>
For more information about Claddagh visit www.claddaghrecords.com.
<![if !supportEmptyParas]> <![endif]>
---
<![if !supportEmptyParas]> <![endif]>
Lover's Ghost
<![if !supportEmptyParas]> <![endif]>
Black Rose Records BRRCD003; 55 minutes; 2000
<![if !supportEmptyParas]> <![endif]>
If it's a recipe for matchless singing and peerless playing you're after, then look no further than Lover's Ghost, the third album by Irish traditional trio Cran. First take the lyrical flute and whistles of Desi Wilkinson. Add a spice of Ronan Brown's uilleann pipes and a dollop of his multi-instrumental skills. Next blend in Seán Corcoran's stunning lead vocals and his bouzouki and guitar. Then dress with some fine unaccompanied singing from all three and there you have it, your own Lover's Ghost. <![if !vml]>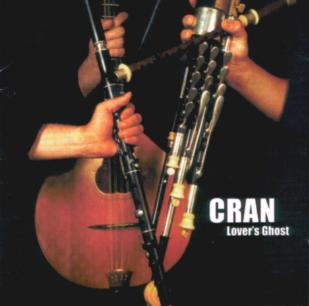 <![endif]>
<![if !supportEmptyParas]> <![endif]>
It's a finely balanced album too with the pieces spanning the emotional gamut from the sombre song The Stolen Bride via the steady gait of a set of Donegal highlands and reels (graced by famous guest Tríona Ní Dhomhnaill's clavinet) to the tip-tappity-toe merriment of Micho Russell's jigs. There's also some splendid fiddle work from the other guest musician, Kevin Glackin. Buy this or risk leading a poorer life.
<![if !supportEmptyParas]> <![endif]>
<![if !supportEmptyParas]> <![endif]>
---
<![if !supportEmptyParas]> <![endif]>
This snippet of a review by Geoff Wallis was originally written for a long defunct website collaboration between The Rough Guides and Amazon, hence the somewhat breathy style.
<![if !supportEmptyParas]> <![endif]>
---
Music from the Edge of the World
Black Rose Records BRRCD004; 50 minutes; 2002
Unquestionably, one of Ireland's most inventive traditional bands, Cran can always come up with imaginative album titles and here's their fourth album, Music from the Edge of the World to follow The Crooked Stair, Black Black Black and Lover's Ghost.
The Crooked Stair appeared as long ago as 1993 and featured the original line-up of Drogheda singer, bouzouki player and song collector, Seán Corcoran, and two Belfast-born multi-instrumentalists, Neil Martin (probably best-known as a piper and cellist) and Desi Wilkinson, a singer, lilter and fiddler most renowned for his flute and whistle playing. Though Seán and Desi continued to play together regularly, Cran only really emerged as a fully-fledged recording and touring entity when uilleann piper and low whistler, Ronan Browne, a Dubliner, replaced Neil Martin. (The Crooked Stair, by the way, appeared on the now dormant Cross Border Media label, making copies extremely hard to track down. However, much to the musicians' displeasure, certain tracks were licensed to other labels, so, for instance, one can find songs such as Fiollaigean and Dúlmán on the CD Lord of the Dance - The Very Best of Traditional Irish Music and Song released by Carlton Sounds. The liner notes do not credit Cran.) <![if !vml]>
<![endif]>
A relative flurry of recording activity followed Ronan's arrival, resulting in three albums in four years, reinforcing the band's success in places not usually considered hotbeds of traditional music, such as The Netherlands. While 1998's Black Black Black was produced by the US rock legend, Shel Talmy, the band returned to self-production for 2000's Lover's Ghost and now Music from the Edge of the World, both of which appear on their own Black Rose label.
The new album represents, in one sense, the dilemmas faced by professional traditional musicians (if such a concept is not contradictory). Commercial success can only be achieved through regular touring and the supporting sale of CDs. The problem is that audiences often expect the material played or sung to appear on the album they can buy at the gig or, if they're lucky, in shops beforehand (a related issue, of course, is that some audiences may expect the material to be played or sung exactly as it appears on record!). Cran's difficulty is that, having successfully aired Lover's Ghost, on three tours, the band needed a new album for their latest excursion. So, Music from the Edge of the World was specifically recorded to be easily replicable on the live stage.
This means that the production techniques evident on, say, Black Black Black are largely absent from Music from the Edge of the World. So, for example, the former's opening track,. Abbey Reel/West Clare Reel, featured numerous overdubs, allowing Desi Wilkinson to lilt and play flute simultaneously or Ronan Browne to accompany his own pipes with his very own flute. It is not the case that Cran used overdubs or multitracking excessively, but Black Black Black was very much a studio album creating a depth of sound, not least in the multitracked vocal harmonies, that was impossible to replicate on stage as a trio. Similarly, both this album and Lover's Ghost included guest musicians. Fiddler Kevin Glackin and the keyboards of Tríona Ní Dhomhnaill appeared on both albums, while Black Black Black also featured synthesised strings, the choir Anúna and the aforementioned Mr. Talmy on tambourine (hmm, that's nice, Shel - sorry, slipping into Viv Stanshall mode).
Consequently, Music from the Edge of the World sees Cran as a trio stripped bare, musically naked for all the world to see. Ironically, therefore, a band whose success was built upon the relative complexity of its recordings has now issued an album, simple in comparison, in order to bolster that success. Now, of course, this would obviously matter if Cran were a bunch of no-hopers hiding their lack of talent behind studio techniques, but this is palpably not the case, for Desi, Ronan and Seán are masters of their respective crafts.
Music from the Edge of the World consists of fourteen tracks, including nine songs. As ever, lyrics are provided and even translations for the Irish language songs (and the one Scots Gaelic song) together with brief, but pertinent notes on the sources. Some of these make fascinating reading. For instance, the album's second song, Seán Bán, an erotic song from Connemara, has "so much double-meaning... that we are not quite sure ourselves what some of it is about". It is hard to disagree, especially with (translated) lines which read "Every town is nice except grey Clionach of the periwinkles" or "Nicely I would plant potatoes for you even better than I would cut turf". The latter, of course, is an offer that few men would resist.
As ever, the instrumentals are sprightly and exquisite and, probably, none better than a fulsome rendition of that much recorded reel Toss the Feathers, which is Desi and Ronan reinvigorate by playing on "aged" Clarke's whistles. Elsewhere the pair combine to provide a resonant backdrop for Seán's passionate singing, either through instrumental prowess or the warmth of their supporting vocal harmonies. Corcoran is on fine form himself throughout, demonstrating the sheer breadth of his song repertoire through both familiar songs, a gorgeous solo rendition of The Banks of the Bann, and the resurrection of the tongue-twisting "stage Irish" song, The Whistling Thief.
Ultimately, however, Music from the Edge of the World further demonstrates the uniqueness of Cran's sound and makes this one of the essential purchases of 2002.
---
This review by Geoff Wallis was originally written for Musical Traditions – www.mustrad.org.uk/.
For more information about Cran - www.cranmusic.com.
This album is distributed in Ireland by Claddagh (www.claddaghrecords.com) from whom it is also available by mail order worldwide.
---
<![if !supportEmptyParas]> <![endif]>