Cathal Hayden
Click on the album's title to head directly to the relevant review.
---
Hook 001; 51 minutes; 1999
It's many moons since Cathal Hayden released his debut album, Handed Down, and, in the intervening years, the fiddler and banjo player made a name for himself with the band Four Men and a Dog. Cathal hails from Pomeroy, a rather isolated, upland plantation village in County Tyrone, but one also with a strong musical tradition. Alan Feldman went to Pomeroy to interview the late blind fiddler John Loughran for his book The Northern Fiddler (and, boy, did Loughran take the mickey out of him!) and Cathal's father was also a locally renowned fiddler and banjo player.<![if !vml]>
<![endif]>
The story goes that father and son Hayden were paying a visit to Brian McGrath's family's pub at Brookeborough in neighbouring Fermanagh, a notable music venue, when the Antrim fiddle-maker Jim McKillop popped in with a few of his instruments. One was promptly purchased for Cathal, who was already highly proficient on the banjo, and he went on to become All-Ireland Champion on both instruments.
Handed Down was produced by Arty McGlynn and the Tyrone guitarist resumed the controls seventeen years later for Cathal's self-titled second album. Also featured are Brian McGrath and Rod McVey on keyboards, Liam Bradley on assorted percussion and Sliabh Notes' accordionist Dónal Murphy (who played in an early incarnation of Four Men and a Dog) appears on one track. So does the Kerry accordionist, Séamus Begley, who provides vocals for the album's only song, The Mountains of Pomeroy, which oddly does not feature Cathal himself. Anyone who knows the area around Pomeroy might be puzzled by a reference to its mountains. It's certainly hilly, so we can allow the song's author, one Dr. Sigerson, a degree of poetic licence since the impact of the following line would be diminished by more accurate topography:
'Beware,' they say, 'of Renardine on the mountains of Pomeroy.'
Unfortunately, as Séamus recounts, the song's heroine does meet her doom and Renardine.
But back to Cathal. The broadcaster Tony McAuley's sleevenotes conclude with the statement that this CD is "one of the finest collections of traditional fiddle music I've ever heard" and he is absolutely correct albeit that there's a fair bit of banjo flying around here too. 'Flying' is an appropriate word to describe Cathal's playing and he sets out his stall right away with a glorious opener, the reels Goodbye to Ireland and McKillop's. The following set (The Boys of Ballisodare/Unknown/Lord McDonald's) is even better as Cathal exhibits that lightness of touch, the soars and swoops and delicate little harmonies which characterise his playing. He's as fast as greased lightning too, but there's never a sense of him about to lose either control or the thread he's playing.
The banjo features on the next four tracks, but only on one of these, John Carty's Seanamach Tubestation, does Cathal accompany himself (thanks to double-tracking). The best of these highlights a couple of sprightly reels, Splendid Isolation and Mrs Lawrie's, penned by the Armagh fiddler long resident in London, Brendan McGlinchey (now when is he going to record again?).
The album's accompaniment verges on perfection and none better than on the seventh track, Master McDermot's/The Tailor's Fancy, where McGrath's pianowork is the epitome of understatement, allowing Hayden to set sail on yet another voyage of discovery. Next follows a wondrous, literally low-key rendition in B flat of Liz Carroll's with yet more spirited banjo entering for the second half.
Dónal Murphy emerges after The Mountains of Pomeroy interlude for a set of lively Kerry slides while the album's only hornpipe, The Homeruler, provides a welcome diversion. While much of the album demonstrate's Cathal's nose for some fine lesser-known tunes, the last two tracks include a couple of rather more familiar ones, the reels Paddy Cronin's and Seán Ryan's. The latter reveals Cathal's fiddle at its most mellifluous singing best, a tune that you can almost see swaggering down the road, fully content after a couple of grand pints. And that's exactly how the listener should feel on hearing this truly marvellous album.
---
This review by Geoff Wallis first appeared at Musical Traditions – www.mustrad.org.uk.
---
Hook 004; 70 minutes; 2006
Recorded during the 2005 Open House Festival in Belfast, this hugely enjoyable album provides thorough confirmation that Cathal Hayden from Pomeroy in County Tyrone remains not only one of Ireland's finest fiddlers, but also one of the country's foremost banjo players.
<![if !vml]>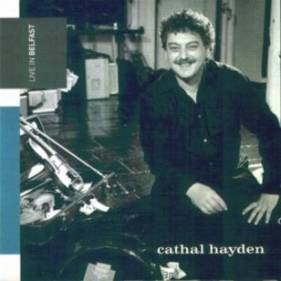 <![endif]>Said concert at the Lyric Theatre was planned as a tribute to Cathal and the quality of the musicians who arrived to participate provides ample evidence of his high (and fully-warranted) status which the following brief run-through will ratify.
The first three tracks feature his long time sparring-partner and fellow Tyrone-man, guitarist Arty McGlynn and include an opening effervescent rendition of The Boys of Ballisodare (evincing all Cathal's native twists and turns), as well as a sparkling banjo set consisting of The Liverpool Hornpipe and John Mosaí McGinley's reel.
Piano accordionist Alan Kelly and percussionist Liam Bradley join for the next two cuts, the first is Arty's own composition Reminiscing and the second a flowing set of jigs including Paddy O'Brien's The One That Was Lost.
A song from Kevin Doherty is followed by one of the most gorgeous fiddle-accordion duets you'll ever hear. The tune is The Reconciliation and the box-player in question is Mairtín O'Connor. At the turn into The Plough and the Stars, the pair are joined by Brendan O'Regan on bouzouki and Mícheál Ó Domhnaill on guitar (and I've a sneaking suspicion that this was probably the much-missed Mícheál's final recording). This quartet also provides a scintillating version of The Home Ruler and Maud Miller's before Mícheál sings Lord Franklin, though, sad to report, it's by no means his best rendition.
Arty's back for tracks eleven to thirteen and joined by Matt Molloy, first for a spanking set of reels, then Matt's gorgeous solo rendition of A Stór Mo Chroí (joined by Arty for the latter stages) leaps without any fuss whatsoever into the hornpipe Pol Ha'penny, running in turn into a thrilling version of The Old Bush reel in which, for the tune's first run, involves a spellbinding unison concoction of flute, fiddle and (picked) guitar. Then Mairtín's back to join the trio for more reel delights in the shape of a set kick-started by Master McDermott's.
Track fourteen is very much a Tyrone set personnel-wise with Cathal joined by his brother Stephen on fiddle and other local luminaries while the closing cut is an astonishing banjo work-out featuring a plucking quartet of the Hayden himself, Gerry O'Connor, Brian McGrath and Mark Mohan on a medley of five reels.
Official live recordings of Irish traditional music are a relative rarity, but this is certainly one which would grace anyone's collection.
Geoff Wallis
24th July, 2008
---
Both albums are available from Claddagh Records – www.claddaghrecords.com.
---
<![if !supportEmptyParas]> <![endif]>