James Keane
<![if !supportEmptyParas]> <![endif]>
<![if !supportEmptyParas]> <![endif]>
<![if !supportEmptyParas]> <![endif]>
Click on one of the above titles to head straight to the review.
---
<![if !supportEmptyParas]> <![endif]>
<![if !supportEmptyParas]> <![endif]>
Lavalla Records – LA01; 73 minutes; 2002
<![if !supportEmptyParas]> <![endif]>
Released on the button accordionist's own label, this album was recorded in November, 1998 at Whelan's on Dublin's Wexford Street. Essentially a homecoming concert for a Dubliner long-based in the USA, it began as a simple duo performance in which he was accompanied by Garry O'Briain, but developed into a full-blown session as the pair were subsequently joined by Kevin Conneff on bodhrán, Mick O'Connor's flute and Seán Keane's fiddle (except he'd had to borrow one from a fellow audience member). The liner notes include Jim Kelly's review of the gig for Irish Music magazine and actually include James's own corrections to the on-stage banter, though there's nothing particularly startling there (for example, "The Castle Céilí Band won the 1965 All-Ireland in Thurles, not Nenagh" rather than "When I said that ****** ****** was a complete gobshite, I had been misled by scurrilous allegations that he had poisoned his neighbour's dogs").<![if !vml]>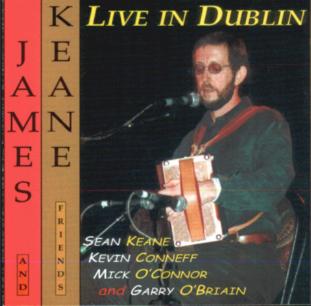 <![endif]>
<![if !supportEmptyParas]> <![endif]>
Don't expect perfect sound quality as the gig was recorded on a cassette tape and there is significant background hiss, but do anticipate much enjoyment listening to this album. There seems to have been little tinkering with the order, so, for instance, when James announces that he will be playing a couple of Martin Mulhaire's tunes later on, he does so. This means that it's possible to feel James and Garry becoming both more involved in their music and more relaxed as the evening progresses. That relaxation becomes apparent early on in one of James's renowned pieces of playing, his rendition of one of the airs associated with John Doherty, Paddy's Rambles Through the Park, enough by itself to question anyone who doubts whether the accordion can ever be a creative instrument. By the time he gets to Tom Ward's Downfall his fingers are flying, even though he notes at the end of the set "You wouldn't believe how nervous I am. Honest to God, you wouldn't think I'd ever played in Dublin before.")
<![if !supportEmptyParas]> <![endif]>
The session commences with track ten when Mick O'Connor and Seán Keane arrive on stage for The Old Shelling Set (James also tries to haste their entrance with "Come on, lads, the last bus is leaving The Quays now"), though it's the subsequent The Church Street Polkas where the feathers begin to fly. The album ends with a splendid set of reels kicked off by Patrick Kelly's and completed by Rakish Paddy, with The Bucks of Oranmore intervening. By now the quintet is really flying, leaving the listener wondering just exactly where the session continued afterwards.
<![if !supportEmptyParas]> <![endif]>
An enjoyable evening for musicians and audience and certainly one for the CD player.
---
<![if !supportEmptyParas]> <![endif]>
Reviewed by Geoff Wallis for Musical Traditions magazine – www.mustrad.org.uk.
<![if !supportEmptyParas]> <![endif]>
---
<![if !supportEmptyParas]> <![endif]>
<![if !supportEmptyParas]> <![endif]>
Shanachie 78031; 53 minutes; 1999
<![if !supportEmptyParas]> <![endif]>
<![if !vml]>
<![endif]>Resident in the USA since 1968, celebrated button accordionist James Keane has again returned to Ireland to make his latest album, Sweeter as the Years Roll By. Recorded at Liam Clancy's studio in Co. Waterford and with Garry Ó Briain once more as main musical collaborator and producer, the release marks a deliberate attempt to bridge the gap between the emigré box-player and some of Ireland's finest young musicians.
<![if !supportEmptyParas]> <![endif]>
Featured guests include 15-year old fiddler Liam O'Connor and his equally youthful band Turas, harp wizard Michael Rooney, Danú's bodhrán-player Donnchadh Gough, and James's nephews Padraic and Darach Keane (fiddle and low whistle respectively). While the nephews' chauffeur, James's older brother, Seán (of Chieftains renown), guests on a perky set of reels. As ever, though it's the accordionist himself, demonstrating his utter mastery of the instrument, who catches the ear - all spark and style on the up-tempo dance tunes, and astonishingly mournful on the album's stand-out and closing track, the moving slow air Paddy's Rambles Through the Park, associated with the great Donegal fiddler John Doherty.
<![if !supportEmptyParas]> <![endif]>
---
<![if !supportEmptyParas]> <![endif]>
This snippet of a review by Geoff Wallis was originally written for a long defunct website collaboration between The Rough Guides and Amazon, hence the somewhat breathy style.
<![if !supportEmptyParas]> <![endif]>
---
<![if !supportEmptyParas]> <![endif]>
<![if !supportEmptyParas]> <![endif]>