Josephine Keegan
Click on the album title to head straight to the review.
---
Own label – no catalogue number; 44 minutes; 2006
For many people Josephine Keegan's name will always conjure memories of Seán McGuire and the many albums they made together with the Dundee-born, County Armagh-based pianist providing resolute and resounding piano accompaniment to the late wee man's often wild flights of fancy. Yet Josephine has long been a renowned fiddler in her own right, though all five of her solo albums, the last made some twenty-five years ago, have long been deleted.
<![if !supportEmptyParas]> <![endif]>
<![if !vml]>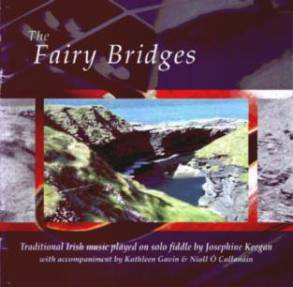 <![endif]>Those albums themselves were unusual in the fact that Josephine provided her own piano accompaniment, courtesy of double tracking. Now, just over fifty years since her fiddling won the Oireachtas Gold Medal in 1955, she has released a solo album which for the first time employs accompanists. Said backers are the pianist Kathleen Gavin (who appeared on the excellent Music at the House CD alongside accordionist Marty Fahey and fiddler Brendan Bulger) and bouzouki player Niall Ó Callanáin, once of Deiseal and more recently a collaborator with Josephine on the CD issued in association with the re-publication of The Giblin Collection of traditional tunes.
<![if !supportEmptyParas]> <![endif]>
Of course, Josephine is also widely known as a composer and several of her own tunes feature on The Fairy Bridges, including the title track itself, named after the cliff arches formed by the erosion of the tide just north of Bundoran in County Donegal.  However, she also draws widely from other sources, including Patrick's Night from Paddy 'Nenagh' O'Brien, Dance of the Honey Bees from Charlie Lennon, and Star of Ireland from Finbarr Dwyer, all noticeably musicians from the same generation. Additionally, there's more than a nod to Scotland, not least in the form of the slow air The Resting Chair (written by the Shetland fiddler Tom Anderson) which pays more than a nod to Seán McGuire's own recorded version and Lament for Bert Murray, an air penned by another Scots fiddler, Alex J. Lawson, in honour of 'The Auld Fiddler' who died in 2003.
<![if !supportEmptyParas]> <![endif]>
Yet there are two aspects to this album, one positive and the other less so. Josephine is on wonderful form throughout, not least on the very capricious High Jinks, which sees her embarking upon a voyage through a four-part reel whose separate sections encompass the keys of E minor (twice), G and D. Her bouncy vivacity is perfectly matched by Kathleen's ever complementary piano (except for the part where something seems to have gone a little awry on one of the more tortuous sections of The Three Sea Captains). Their duets are also extremely redolent of recordings from that generation referred to earlier, while the closing track, The Waltz of the White Lily with its flamboyant opening piano solo sounds exactly like something Seán McGuire's second long-serving accompanist, Patsy McCabe, might have served up for the bow-tied fiddler.
<![if !supportEmptyParas]> <![endif]>
However, the three tracks recorded with bouzouki accompaniment simply do not work. The sound of these is astonishingly tinny with far too much reverb in the mix and Niall's playing becomes utterly obtrusive (and seemingly off-key) on St Anne's and Dillon. The combination is even less successful on O'Hanlon's Bridge/The Copper Kettle, where discord reigns and this reviewer's feelings about the inappropriateness of bouzouki accompaniment to solo fiddle playing are thoroughly reinforced.
<![if !supportEmptyParas]> <![endif]>
Despite those reservations The Fairy Bridges still reveals a fiddler with remarkable imagination, a joyful vigour in her playing and the nous to know exactly where to direct it.
<![if !supportEmptyParas]> <![endif]>
---
<![if !supportEmptyParas]> <![endif]>
<![if !supportEmptyParas]> <![endif]>
Own label – no catalogue number; 36 minutes; 2006
<![if !supportEmptyParas]> <![endif]>
Forgive me, but it was extremely difficult when listening to the opening track of this first solo piano album by Josephine Keegan not to ignore its creation of the mental image of Buster Keaton sprinting rapidly down a hill being chased by rolling rocks, his face deadpan, but his eyes expressing terror at the thought of the imminent crushing of his body. Those two hornpipes would provide fitting accompaniment to such a silent screen event and add to the excitement.
<![if !supportEmptyParas]> <![endif]>
<![if !vml]>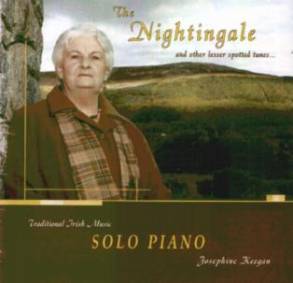 <![endif]>I've long held very mixed feelings about the place of the piano in Irish traditional music. It's hard to think of more than a few session locations where the piano plays a regular role. True, there were the grand old days at The Favourite with Reg Hall (who still provides regular ivory-tinkling at The Auld Triangle), but I don't recall ever witnessing a session in Ireland where the piano played a part, with the occasional exception of Húdaí Beag's in Bunbeg.
<![if !supportEmptyParas]> <![endif]>
Obviously, many albums were recorded with piano accompaniment in the past, going right back to the days of Coleman and Morrison, and the keyboard sometimes enhanced the fiddlers' music. However, when the piano becomes a solo vehicle for traditional tunes then sentimentality seems to take over. Yep, some pianists can provide extremely dextrous renditions of reels and jigs, as Caoimhín Vallely and Padraic O'Reilly have revealed on their respective solo albums, and Mícheál Ó Súilleabháin has explored the possibilities of a jazz-based approach to traditional tunes, but I'm still left shaking my head and wondering what the point was in the first place.
<![if !supportEmptyParas]> <![endif]>
Said thoughts are all combined when listening to Josephine Keegan's solo piano album which actually combines six tracks recorded way back in 1975 for an aborted project with Seán McGuire and Jo Burke with five recorded some thirty years later. Her playing is ever precise, rhythmic and flowing, but only some bizarre piano-obsessed Irish traditional music hound would want to listen to this album more than once.
<![if !supportEmptyParas]> <![endif]>
---
These reviews by Geoff Wallis were originally written for Musical Traditions - www.mustrad.org.uk.
---
<![if !supportEmptyParas]> <![endif]>