Lúnasa
<![if !supportEmptyParas]> <![endif]>
The Merry Sisters of Fate
<![if !supportEmptyParas]> <![endif]>
Green Linnet GLCD 1213; 2001
<![if !supportEmptyParas]> <![endif]>
This is not so much a review as an article based on an interview with Seán Smyth in the summer of 2001.
<![if !supportEmptyParas]> <![endif]>
"Lúnasa was an old pagan, pre-Christian festival in honour of the god Lugh which used to take place around harvest time," explains fiddler Seán Smyth, "when the Celts would paint themselves blue, jump around the place and have a good time." So, that's the source of the Irish traditional quintet's name, but how do you pronounce it? "Loo-nasa," Seán proffers and his intonation is akin to the English word 'lunacy', though there's no common etymology nor madness in the band's music, even if Seán's own 1993 solo album was called The Blue Fiddle. <![if !vml]>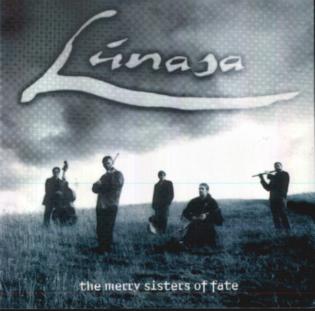 <![endif]>
<![if !supportEmptyParas]> <![endif]>
Originally formed as a trio in 1997, the band debuted at The Swan in Stockwell before heading off to tour Scandinavia as Seán Smyth and Friends, Seán's allies being the former Sharon Shannon band luminaries, guitarist Donogh Hennessy and double-bass player Trevor Hutchinson, the latter also well-known for his membership of The Waterboys during their Galway incarnation. Subsequently, the band recorded its first album, a mainly live affair whose background sound incursions include the noise of a bus passing one of the venues, The Lobby Bar in Cork. While Donogh and Trevor laid down the band's characteristic mix of rhythm and resonance, Seán had always wanted to share his fiddle's melodic lead with uilleann pipes and flute, a combination pioneered by The Bothy Band. So Mike McGoldrick and John McSherry were hauled on board for the live recordings, though neither was to be available for the band's subsequent Australian tour. At this point, flute player Kevin Crawford was recruited and, finally, the name Lúnasa chosen as the band's name and the album's title.
<![if !supportEmptyParas]> <![endif]>
From its opening moments, the debut album set out Lúnasa's stall, its initial march, Lord Monroe, featuring their charismatic blend of energetic beauty, while the tune's change to an untitled gavotte illustrated another Lúnasa hallmark. As Seán remarks, "You don't have to know the ins and outs of time signatures to get the actual energy and freshness of doing something like that. People get it. That's the great testament to the music. It's actually there in the music and it's there for people to enjoy and for us to explore. There's such a wealth of abilities in the band that the possibilities are endless."
<![if !supportEmptyParas]> <![endif]>
Such enjoyment caught the ear of Green Linnet to whom the band signed for its first studio album, Otherworld, an awesome, scintillating concoction. While the bulk of the album featured traditional tunes, the remainder revealed that Donogh Hennessy was no mean composer too, his mood-wrapped music ideally suited to the innate lyricism of the Smyth-Crawford axis. Seán explains the reason:  "We're all melody heads in the band. Donogh knows all the tunes note for note on the whistle." It's no wonder then that the guitarist's immersion in the tradition produces tunes destined to become session regulars nor that his subtle guitar work provides both cohesion and embellishment to Lúnasa's sound.
<![if !supportEmptyParas]> <![endif]>
While McGoldrick and McSherry both guested on Otherworld, the band's desire for a permanent uilleann piper was finally realized with the arrival of Cillian Vallely from the Armagh musical dynasty which has also produced concertina wizard Niall, fiddler Caoimính (of the band North Cregg) and Fintan (flute player and author). While doubling the band's Northern component (Trevor's from Cookstown, Co. Tyrone), it saw another repertoire added to Mayo-man Smyth, Dubliner Hennessy (both long-time Galway residents) and the Clare roots of Birmingham-born Crawford.
<![if !supportEmptyParas]> <![endif]>
Lúnasa's recently-released third album, The Merry Sisters of Fate (again on Green Linnet), reflects this range with tunes drawn from sources across the breadth of Ireland. While its predecessor sparkled with all the energy of Lúnasa's live performances, Merry Sisters has the softer touch of an all-instrumental band fully confident in its ability to survive in the international marketplace. Intriguingly, the album includes guests musicians playing instruments atypical of Irish traditional music, such as the harmonium and clarinet on the air Páistín Fionn and lap steel guitar on the offbeat reel Donogh and Mike's. There's evidence too of increased experimentation with both rhythm and sound which once produced a bewildered reaction from Seán - "I remember coming into the studio and seeing Trevor with the bow and the bouzouki and thinking 'This man has lost it'." - but is now an intrinsic component of their music.
<![if !supportEmptyParas]> <![endif]>
Yet currently the most successful Irish traditional bands outside Ireland (Altan, Dervish, Danú, Solas and even The Chieftains) all have a singer adding a counterpoint to the tunes while Sharon Shannon recent Diamond Mountain Sessions CD included vocals for the first time. Having resisted following that route, can Lúnasa mirror their success internationally? Seán is confident that it can be done. "Irish music is one of the things that really does connect with people. Irish people are great communicators of their art and their energy. I think it's just the way we come up, just the way we learn as kids, playing and enjoying ourselves. Irish people tend to be very confident in their tradition and in their music, sometimes maybe over-confident!"
<![if !supportEmptyParas]> <![endif]>
Lúnasa's frenetic touring schedule leaves little time for solo projects though Kevin still plays with the modern céilí band, Moving Cloud and found time to record his own new album of flute and fiddle duets, In Good Company. This year sees them clocking up their air miles with visits to Japan, Australia and Europe while the band further enhances its exposure as special guests on Mary Chapin Carpenter's summer US tour. In the process, they've become used to some very un-Irish audience reactions. "When we go to Japan they know all the tracks on the album. When we play you can't hear a pin drop, but at the end they go absolutely crazy with appreciation and their love for Irish music." Seán shakes his head in bewilderment. "It just blows my mind. I can't believe it."
<![if !supportEmptyParas]> <![endif]>
---
<![if !supportEmptyParas]> <![endif]>
This article by Geoff Wallis originally appeared in fRoots magazine  - www.frootsmag.com.
<![if !supportEmptyParas]> <![endif]>
---