Let Loose in Letterfrack
<![if !supportEmptyParas]> <![endif]>
Conamara Environmental Education & Cultural Centre; 46 minutes; 2003
<![if !supportEmptyParas]> <![endif]>
Let Loose in Letterfrack is the third in a series of fund-raising CDs released in support of the Conamara Environmental Education and Cultural Centre. Like its predecessors, 2000ís Behind the Mist and last yearís Between the Jigs and the Reels, this new compilation features musicians mainly either born in counties Galway or Clare or based in them and has again been produced by PJ Curtis (an environmental campaigner himself who was instrumental in fighting off attempts to develop The Burren in County Clare). <![if !vml]>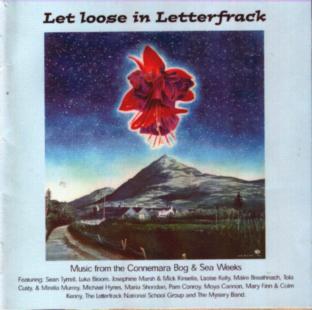 <![endif]>
<![if !supportEmptyParas]> <![endif]>
Some of the musicians featured here, such as SeŠn Tyrrell, Luka Bloom, MŠire Breathnach, Josephine Marsh and Jacqueline McCarthy will be well-known to most listeners, but all are in expected good form, especially Bloom on a fun-laden live rendition of his own song, Iím a Bogman, but the overriding delight evoked by these collections consists in the discovery of lesser-known musicians. One such is the Clare flute-player Michael Hynes who provides a gently swaying version of the reels Rolling in the Ryegrass/The Traveller, accompanied by some pretty nifty banjo-plucking from Mr. Tyrrell. Another is the singer Maria Sheridan who sings Who Put the Blood? in a style somewhat redolent of Cara Dillon, but with enough of her own inspiration to warrant attention.
<![if !supportEmptyParas]> <![endif]>
The show-stealer, however, is undoubtedly the triumvirate of Jacqueline (concertina), Bernadette (fiddle) and Marian (uilleann pipes) McCarthy whose set of reels, Molly Branniganís/Sporting Nell (the latter often associated with their late father, Tommy) is the epitome of sublime revelation.
<![if !supportEmptyParas]> <![endif]>
Unlike its predecessor, this album lacks a joke hidden track, but concludes with a bluesy instrumental from The Mystery Jam Band (who rather give the game away by listing their identities in the credits).
<![if !supportEmptyParas]> <![endif]>
---
<![if !supportEmptyParas]> <![endif]>
Written for TIMR by Geoff Wallis.
<![if !supportEmptyParas]> <![endif]>
For more details about this album contact lfrack@eircom.net or ceec@eircom.ie.
<![if !supportEmptyParas]> <![endif]>
---
<![if !supportEmptyParas]> <![endif]>