Mary Custy & Quentin Cooper – Barr Trá
Own label MCQC001; 56 minutes; 2003
<![if !supportEmptyParas]> <![endif]>
Eoin O'Neill – In Session
Clachán Music; 44 minutes; 2003
<![if !supportEmptyParas]> <![endif]>
Pat O'Connor – The Green Mountain
Clachán Music; 56 minutes; 2001
<![if !supportEmptyParas]> <![endif]>
"Only connect" advised E.M. Forster and he would have experienced little difficulty in determining the links between these three releases. Firstly, all three emanate from Clare. Next, multi-instrumentalist Quentin Cooper (who actually grew up in Peru, but has been based in Clare for some years) features on each of the albums. Then, thirdly, of course, fiddler Mary Custy and bouzouki-player (and sometime fiddler too) Eoin O'Neill previously recorded as a duo, while, fourthly, both Eoin and Quentin are members of The Céilí Bandits. Fifthly, East Clare fiddler Pat O'Connor pops up on In Session while, lastly, and most loosely, all the CDs are readily available in the estimable Custy's Music Shop in Ennis where (damn!) Eoin O'Neill has been employed and which is owned (double damn!) by Frances Custy, sister of (oh, heck!) Mary Custy, both daughters of Frank Custy who taught virtually every well-known fiddler in Clare including ... (that's enough connections – on to the reviews. Ed.).
<![if !supportEmptyParas]> <![endif]>
Anyone who has heard Mary Custy's last album, After 10.30, released in 1999, which she recorded with the guitarist Stephen Flaherty will find little to surprise, but plenty about which to enthuse, in her latest release. Like the implicit suggestion of its predecessors title, Barr Trá is definitely an album for late-night enjoyment. Over the last few years, in direct contrast to her work in Bushplant and her own semi-electric Mary Custy Band, the fiddler's solo recordings have acquired a certain ambience which in rock reviewing quarters would be defined as "lo-fi" or, to coin a phrase, alt.trad. The mood of Barr Trá is laidback almost throughout a selection of tracks drawn from sources as  varied two Chinese folk song (Chenresie and Tales from the Heart of Chuang Tzu), a Mexican traditional song acquired via R.E.M. (Underneath the Bunker) which features some musette-inspired, rarely heard accordion from Mary, a Breton accordion waltz (In the Time of Gypsies), a Sicilian tune (Costumi Siciliane) and Little Feat's keyboard player, Bill Payne (Love Fields). There's also a tune called Fourteen Year <![if !vml]>
<![endif]>Old's, apparently written "by a crowd of fourteen year olds Galician kids) and Coney Hill, penned by Quentin whilst in New Zealand.
<![if !supportEmptyParas]> <![endif]>
So, there's an instant eclecticism apparent in Barr Trá, whose title, by the way, derives from the name of a townland on the coast of West Clare. However, there's also a fair smattering of Irish tunes, including a typically, Custily languid rendition of Toss the Feathers plus rather more upbeat reels such as The Hidden Ground, alongside tunes learnt from Paul Rodden, Benwhiskin Jig and Paul Rodden's Hornpipe, as well as a splendidly resonant rendition of The Four Courts Set. The tone of Mary's fiddle on the last-named instantly reminded me of Jimmy Power, albeit with a more mellifluous edge, though its impact is diminished when Quentin joins in himself on the fiddle too (not a wise move).
<![if !supportEmptyParas]> <![endif]>
All told, Barr Trá is a thoroughly enjoyable exploration of the continuing development of Mary Custy as an innovative fiddler in her own right and in Quentin's increasingly sensitive abilities as an accompanist.
<![if !supportEmptyParas]> <![endif]>
That last word naturally leads on to discussion of the first album to bear solely the name of one of the best-known accompanists in the business, Eoin O'Neill. The last time I saw Eoin play was a couple of years back when a chain of unforeseen events saw me surrounded by a coach load of tourists in McDermott's bar in Doolin. Sadly, fellow Céilí Bandit Yvonne Casey and Eoin were deliberately mugging it up for the tourists' flashbulbs, so it's grand to have the evidence provided by In Session to remind me just how good an accompanist Eoin can be.
<![if !supportEmptyParas]> <![endif]>
Of course, it's an oddity for an accompanist to produce an album in his own name, albeit one where his lesser-known fiddle skills are displayed on a couple of tracks. Otherwise, his bouzouki is subservient to a range of other musicians including the aforementioned Casey and O'Connor, accordionist John Williams (of previous Solas and solo album renown), banjo-player Tony Dalton, fiddlers Tara Connaghan and Fred Samzun, mandolin-player Eddie Moloney and a veritable orchestra of fiddles recorded in Brandon's pub in Ennis. <![if !vml]>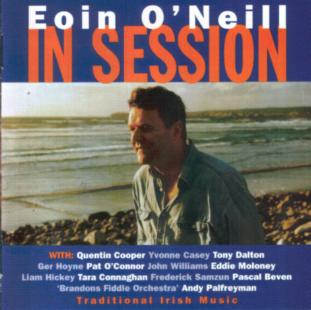 <![endif]>
<![if !supportEmptyParas]> <![endif]>
Undoubtedly, Eoin is one of the best bouzouki players around, but it can sometimes be hard to bear this in mind and appreciate the sensitivity of his accompaniments when such equally class acts as Dalton and Moloney are around. However, for those who decry the place of the accompanist in Irish traditional music, there's real evidence here that O'Neill's abilities positively enhance the impact of the melody impact. For example, take the recording with Tony Dalton, where the unadulterated subtlety of Eoin's playing, including occasional unison or harmonic picking combined with a neat understanding of the use of descending chords, enlightens the sheer virtuosity of the banjo's playing of the melody line on The Fisherman's Lilt/The Bee's Wing.
<![if !supportEmptyParas]> <![endif]>
There are also two samples of his compositional skills, the dolorous Paidir, featuring John Williams, and the closing track, Hello Herbie (co-written with Quentin Cooper) which sounds like a demo for the soundtrack of an as yet unproduced TV detective series. While the former undoubtedly works, the latter has the Polyfilla feel.
<![if !supportEmptyParas]> <![endif]>
Perhaps the most enjoyable tracks are The Highest Hill in Sligo and the set of more reels kicked off by Molly Bán where the obvious Donegal style of Tara Connaghan's fiddle-playing (she originates from Glenties) contrasts and combines to grand effect with the intricacies of Eoin's accompaniment.
<![if !supportEmptyParas]> <![endif]>
Sadly, "intricacy" is certainly not a term which can be used regarding Quentin Cooper's guitar accompaniment on Pat O'Connor's The Green Mountain, though it would be charitable to note that the album was recorded in the Autumn of 2000 when, considering the comparison offered by Barr Trá, Quentin's skills as an accompanist were in their relative infancy. O'Connor himself is a pretty mean fiddler, exhibiting that slightly flattened edge so notable about the playing of his fellow East Clare musicians. However, as the very first track evinces, Cooper's attempts at syncopated flicks and scrapes simply obtrude on the eloquence of Pat's explorations of Strawberry Blossom and Boil the Kettle Early. The second track, Bobby Casey's reels, sees Quentin opting for a more measured selection of accompanying strokes and intricacies, but again the ultimate impact is to impinge upon the fiddle's impact (something which it's hard to imagine Eoin O'Neill ever doing). <![if !vml]>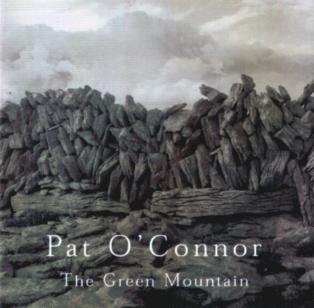 <![endif]>
<![if !supportEmptyParas]> <![endif]>
Fortunately, Josephine Marsh appears on fiddle for a raw-boned rendition of the third track, a set of reels termed Francis Donnellan's Favourite, and later on a set of jigs begun by Junior Crehan's, but much of the rest is pure nascent Cooper. However, and thankfully, there are enough solo renditions, such as the delightful Carty's Pigeon, to reinforce just how versatile and accomplished a fiddler is Pat O'Connor.
<![if !supportEmptyParas]> <![endif]>
It's just one huge pity that Pat wasn't offered the opportunity to record the entirety of The Green Mountain without any accompaniment whatsoever. Despite misgivings, however, it's still a worthy addition to the recorded body of Irish music and well worth investigating.
<![if !supportEmptyParas]> <![endif]>
<![if !supportEmptyParas]> <![endif]>
---
<![if !supportEmptyParas]> <![endif]>
These reviews were penned for TIMR by Geoff Wallis.
<![if !supportEmptyParas]> <![endif]>
Mary Custy can be contacted at marycusty@hotmail.com.
<![if !supportEmptyParas]> <![endif]>
For more information about Clachán Music visit www.custysmusic.com.
<![if !supportEmptyParas]> <![endif]>
---
<![if !supportEmptyParas]> <![endif]>
<![if !supportEmptyParas]> <![endif]>
<![if !supportEmptyParas]> <![endif]>
<![if !supportEmptyParas]> <![endif]>