Martin Donohoe
<![if !supportEmptyParas]> <![endif]>
Tasty Touches
<![if !supportEmptyParas]> <![endif]>
Own label NYAHCD 2006; 2CDs; 141 minutes; 2006
<![if !supportEmptyParas]> <![endif]>
On obtaining this new double album, anyone familiar with the mammoth A Call from the Musical Heart of Cavan, which he coordinated and produced, will readily surmise that button accordionist Martin Donohoe is clearly a man who does not believe half measures. It is a good dozen years since his last album, Free Spirit, was released by Cló Iar-Chonnachta and the sheer length of Tasty Touches suggests that Martin is compensating for the hiatus.
<![if !supportEmptyParas]> <![endif]>
<![if !vml]>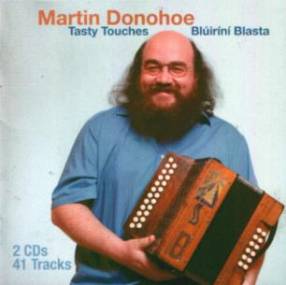 <![endif]>As the album's cover boldly states, Tasty Touches consists of no fewer than forty-one tracks or, to be more precise: thirteen sets of reels (including one bunch of a slower variety) plus another linked to a hornpipe; just three clusters of jigs; one set each of hornpipes, polkas and barndances; three airs; a Carolan tune; a bundle of sixteen songs; and a track of diddling. 
<![if !supportEmptyParas]> <![endif]>
That reference to singing should tip the wink since a quick glance at the album's tray liner reveals the longest guest list since Charlie Haughey's last party. Indeed, since no fewer than nineteen of the forty-six guests come from Martin's home county it is almost possible to view Tasty Touches as Musical Heart of Cavan 2! However, the accordionist has spread his wings further afield and while some of his invitees, such as Cathal McConnell, Fintan and Pat McManus come from neighbouring Fermanagh, other guests include Clare pianist Padraic O'Reilly, Eurovision song contest winner Charlie McGettigan from Donegal, singers Seán Ó Sé and Mheaití Jó Sheámuis Ó Fatharta from Cork and Galway respectively, Stephanie Makem from the Armagh clan and, from further afield, Kent-born guitarist Tim Edey and New York's fiddle maestro Brian Conway.
<![if !supportEmptyParas]> <![endif]>
Unusually too, and reflecting his characteristic generosity, Martin often sits back and allows his callers to take over the kitchen, so those aforementioned slow reels feature a duet between harpers Kavan Donohoe (one of his children – wasn't there once a UK revival band called Crazy Cavan and the Rhythm Rockers?) and Michael Rooney while he regularly takes supporting role on the wide variety of traditional and newly-composed songs.
<![if !supportEmptyParas]> <![endif]>
This might lead to the question "Will the real Martin Donohoe please stand up?" since it is often easy to forget that this is his own album and perhaps on occasion our main protagonist has failed to recall this too. Fortunately, there are plenty of examples of his exuberant playing, not least in the shape of a duet with banjo player Darren Maloney on the reels Jimmy's Return and Paddy Fahy's, but the impact of that set is immediately diminished by a version of Boys of the Lough (with unnamed guitarist) which sounds very much as if it had been absorbed from the Begley and Cooney cookbook and then segues into an adaptation of Music for a Found Harmonium (complete with step dancers) which is unhealthily reminiscent of the Sharon Shannon showpiece.
<![if !supportEmptyParas]> <![endif]>
Of the two discs the first CD feels easily the more coherent, largely because its six songs punctuate the remaining fifteen instrumental tracks. The second, where songs form half the twenty cuts lacks consistency. Its opening track, the air Aghaidh Jhanuis, over part of which Noel Monahan reads his poem Accordion Player, is very redolent of the mood of Séamus Tansey's magnum opus The Phantom Shadows of a Connaught Firelight. This is immediately followed by some lilting from Séamus Fay and then a rendition of Molly Bawn by one Aoife Murray which seems to be a virtual carbon copy of the arrangement appearing on Pauline Scanlon's Red Colour Sun CD.  Then comes Martin Gaffney's flute version of the polka My Love is But a Lassie which drifts into Dark Girl Dressed in Blue on which The Bold Donohoe finally makes his entrance, albeit in a subservient role. Indeed, it is only on the sixth track, Jim Ward's barndances, that his accordion takes the limelight.
<![if !supportEmptyParas]> <![endif]>
All the above leads to the conclusion that Martin Donohoe has allowed his largesse to get out of hand. Put it this way, if one buys an album because of an interest in the musician whose name appears on its cover, then one should at least expect to be able to dwell in that player's musical land for its duration. Instead Martin seems to be taking the listener on some kind of musical scenic route where the signposts are often missing and the attractions fail to match the gloss in the Bord Fáilte brochure (rather like the scenic route from Kilkenny to Cashel, if you've ever been tempted to try it).
<![if !supportEmptyParas]> <![endif]>
Those who buy Tasty Touches on the basis of its cover's depicted accordion will be sadly disappointed by said instrument's absence, or sidelining, on so many tracks while this reviewer simply believes that judicious tune and song selection might have produced a single very tasty CD.
<![if !supportEmptyParas]> <![endif]>
Geoff Wallis
<![if !supportEmptyParas]> <![endif]>
18th April, 2006
<![if !supportEmptyParas]> <![endif]>
---
For further information visit www.tastytouches.com or www.cavanmusic.com.
<![if !supportEmptyParas]> <![endif]>
---
<![if !supportEmptyParas]> <![endif]>
<![if !supportEmptyParas]> <![endif]>
<![if !supportEmptyParas]> <![endif]>
<![if !supportEmptyParas]> <![endif]>
<![if !supportEmptyParas]> <![endif]>