<![if !supportEmptyParas]> <![endif]>
Oisín Mac Diarmada
<![if !supportEmptyParas]> <![endif]>
Ar an bhFidil
<![if !supportEmptyParas]> <![endif]>
Ceol Records; 51 minutes; 2002
<![if !supportEmptyParas]> <![endif]>
<![if !supportEmptyParas]> <![endif]>
<![if !vml]>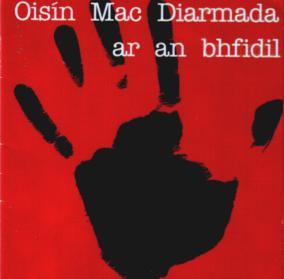 <![endif]>One of the brightest young stars in the panoply of Ireland traditional music, this is fiddler Oisín Mac Diarmada's third album, though the first to bear just his own name. First came, in 2000, the sparkling Traditional Music on Fiddle, Banjo & Harp, recorded with banjo player Brian Fitzgerald and harper Micheál Ó Ruanaigh, followed earlier this year by Oisín's band Téada's self-titled debut album, also on Ceol Records. However, Ar an bhFidil ("On the fiddle") tops the lot, fully confirming Mac Diarmada's position as a wonderfully adept and evocative musician.
<![if !supportEmptyParas]> <![endif]>
Oisín's early years were spent in County Clare where he learnt his first music before the family moved to South Sligo where he took lessons from the notable fiddle teacher, Paddy Ryan. Now noted as a music tutor in his own right, and still only in his early twenties, Oisín's playing on Ar an bhFidil creates a relaxed confection of the music of Sligo and Clare, topped with the delicacies of an astounding technique given full expression by the sheer imagination of his tune settings. His playing of the slow air Bean a 'leanna, associated with the late Connemara singer Joe Heaney, simmers with an unrequited passion. Jigs and reels are threaded with an innate merriment and, above all, Oisín has the power to invest very familiar tunes, such as The Lark in the Morning with new life fashioned by the pure merriment in his playing. Thoroughly enjoyable throughout, this is unquestionably an album that merits repeated listening.
<![if !supportEmptyParas]> <![endif]>
<![if !supportEmptyParas]> <![endif]>
---
This review by Geoff Wallis was originally written for Songlines magazine – www.songlines.co.uk.
For more information about Ceol Records visit www.ceolrecords.com.
The CD is distributed in the UK by Copperplate - www.copperplatemailorder.com.
<![if !supportEmptyParas]> <![endif]>
---
<![if !supportEmptyParas]> <![endif]>
<![if !supportEmptyParas]> <![endif]>
<![if !supportEmptyParas]> <![endif]>
<![if !supportEmptyParas]> <![endif]>
<![if !supportEmptyParas]> <![endif]>