Paddy in the Smoke: Irish Dance Music from a London Pub
Topic TSCD 603; 49 minutes; 1968/1997
In the Smoke: Classic Traditional Irish Music Recorded in London in the 50s, 60s & 70s
Globestyle CDORBC088; 75 minutes; 1995
Irish Music in London Pubs
Cló Iar –Chonnachta/GTD CIC 032/GTD 1032; 46 minutes; 1965/1990
Ah, the dear old Favourite (not that Favourite, of course – see later – but the real Favourite!), now that was the place to hear Irish music on a Sunday lunchtime in the dark old days when the pubs were only licensed to open from noon until 2pm. Nevertheless, it remains astonishing that so much music could be crammed into such little time, although this sometimes managed to be stretched if the local constabulary was lax in enforcing the legal limit of fifteen minutes' drinking up time. As Reg Hall describes in his customarily excellent liner notes:
...it was usually well on the way to half-past when the last tune was played and Jimmy would lean into the mike and tell everyone to "go home and have your dinner!".
Mind you, as the liner picture indicates, this did not stop impromptu music and dancing sometimes continuing after closing time on the pavement outside (although without piano accompaniment). <![if !vml]>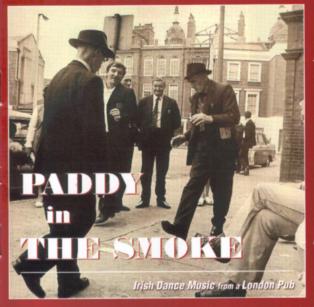 <![endif]>
It was Reg himself, of course, who usually provided the accompaniment indoors and the Jimmy in his quotation was the redoubtable fiddler from County Waterford via Glasgow, Jimmy Power. It was the latter who acted as MC at The Favourite, both on Sundays and when the sessions expanded to include other evenings during the week. The two played regularly as a duo and, as time went on, were joined first by accordionist Tony Ledwith who, in turn, was later replaced by Paddy Malynn.
However, it wasn't just the above-named who ensured that The Favourite was regularly packed (from experience you sometimes had to be there when the doors opened to guarantee a seat), for the pub also attracted many other musicians from London's Irish community as well as acting as a staging post for temporary visitors or just those passing through.
<![if !supportEmptyParas]> <![endif]>
Originally released in LP format in 1968, Paddy in the Smoke was recorded by Bill Leader at The Favourite and provides an enduring testament to the vast array of talent that regularly could be found at the pub. Reg Hall provides piano accompaniment on all but one of its twenty tracks, the exception being a trio piece featuring accordionist Tony MacMahon (who was passing through London on his way to Morocco), plus fiddlers Martin Byrnes and Andy.Boyle.
<![if !supportEmptyParas]> <![endif]>
The remaining tracks, however, feature musicians who stayed a little longer than Tony, such as his Clare compatriot Bobby Casey (whose son Seán would himself take over from Jimmy Power on fiddle when the session relocated to The Victoria on Holloway Road – nowadays redeveloped and open under the name Tommy Flynn's), Lucy Farr from Galway, Con Curtin, Julia Clifford, Seán O'Shea, Tommy Maguire and Jimmy Dunleavy. It was never possible to guess who'd be there on the day and who might turn up unexpectedly. Sadly, most of those musicians have died in recent years (or even earlier – Jimmy Power himself passed on in 1985), but Danny Meehan is still with us and his reputation continues to grow. One unusual regular was a Scotsman from Glasgow, John McLaughlin, who turns up playing spoons on a couple of tracks and whose other speciality was to sing An Irish Soldier Boy while the session's transient element is represented by one Father O'Keeffe who played the mandolin and, according to Reg, "was around for a year or so".
<![if !supportEmptyParas]> <![endif]>
Complete with authentic background noise, including at one time a shout for the landlord, The Favourite's connection with the present also endures in Tom McManamon, son of that same landlord (also called Tom) who plays banjo with The Popes.
<![if !supportEmptyParas]> <![endif]>
In contrast, the Globestyle compilation In the Smoke has always felt like a partial disappointment. Such feeling begins, of course, with the liner's cover photograph which proudly displays a rather oddly shaped pub called The Favourite. Unfortunately (and I'm reliably informed that this still makes the album's compiler, Ron Kavana, wake screaming some nights), this particular Favourite – a very dire pub indeed – was a couple of further miles north on Hornsey Rise and had little connection with Irish music. Indeed the poster in the window on the liner photograph is advertising a quiz. Perhaps to assuage Ron's nightmares the pub closed some years ago and the site now houses some very upmarket flats. <![if !vml]>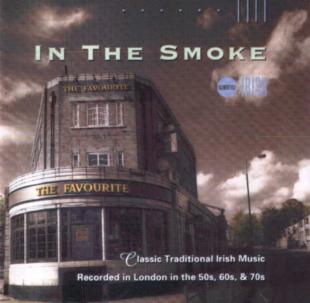 <![endif]>
<![if !supportEmptyParas]> <![endif]>
In the Smoke
repeats some of the tracks from

Paddy in the Smoke, but is bolstered by other Topic recordings from the likes of John and Julia Clifford, plus their son Billy, as well as London session stalwarts Margaret Barry and Michael Gorman, and the O'Halloran brothers, Vince and Dessie (a review of the latter's most recent release can be found

here

. Also included are several recordings from the compilation The Lark in the Clear Air

and it is at this point that the crucial subtitle comes into play for neither John Doonan (from Newcastle) nor The Wright Brothers (from Leicester) had very much to do with London or its music scene. The same applies to harmonica player Noel Pepper and and while Tommy Healy had played regularly in London, I'm not sure the same could be said about his duet partner Johnny Duffy (the tracks are taken from their

Memories of Sligo

album). In contrast, the two Jimmy Power tracks come from his long out-of-print album

The Irish Fiddler

. (Though in fact there are actually three Power cuts since track five,

Jackie Coleman's

/

The Castle

reappears instead of the listed track twenty-six,

Lucy Campbell

/

Toss the Feathers

, by the trio of Tony MacMahon, Andy Boyce and Martin Byrnes.)

<![if !supportEmptyParas]> <![endif]>

This isn't to suggest that In the Smoke should be prosecuted under the Trade Descriptions Act, but it lacks much of the authenticity of Paddy in the Smoke, despite offering substantial good value for money. On the other hand, despite the odd typo, Ron Kavana provides typically astute liner notes and the brief biographies are well worth reading, particularly this pertinent comment about Danny Meehan:

<![if !supportEmptyParas]> <![endif]>

The first time I ever heard Danny's playing, my eyes could scarcely believe my ears as this big man, with hands like proverbial shovels, brought forth the most dainty and delicate hornpipe from an instrument that looked in danger of collapsing beneath the power of his enormous arms!

<![if !supportEmptyParas]> <![endif]>

For those who've never met Danny, he is built like a brick outhouse and lays paving slabs for a living, but put a fiddle in his hand and he's as gentle as a butterfly's kiss.

<![if !supportEmptyParas]> <![endif]>

The final member of this triumvirate of all things Londinium (Irish aspects) is Irish Music in London Pubs, released on cassette by a combination of Cló Iar-Chonnachta and the Galway label GTD in 1990, but originally issued on vinyl in 1965 by Folkways Records of the USA. Unfortunately, since purchasing this cassette some years ago I've always resisted Cló Iar-Chonnachta's invitation to send a further £2/$3 to receive in return the full liner notes. So, all I can reveal is that the music was  <![if !vml]>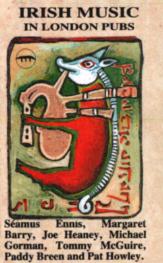 <![endif]>recorded in the Bedford Arms in Camden Town and since that was where Margaret Barry and Michael Gorman played regularly it's unsurprising that they appear here on a number of tracks (revealing in its full horror the awesome fundamentality of the former's banjo accompaniment style). Also appearing are Séamus Ennis, playing 'The Twisting of the Rope' (Casadh an tSúgain), and Joe Heaney who provides his trademark The Rocks of Bawn and An Spailpín Fanach.
<![if !supportEmptyParas]> <![endif]>
The majority of the instrumental tracks feature the aforementioned Barry and Gorman plus Tommy Maguire on melodeon, Paddy Breen on "flagolet" (sic) and Pat Howley, but the sound quality is diabolical throughout and some of the music (especially the dreadful Maggie in the Wood) matches that description.
<![if !supportEmptyParas]> <![endif]>
In other words, this has little interest beyond historical curiosity, though any album featuring Ennis and Heaney rarities must be worth owning,
<![if !supportEmptyParas]> <![endif]>
---
<![if !supportEmptyParas]> <![endif]>
This is an original review for TIMR by Geoff Wallis.
<![if !supportEmptyParas]> <![endif]>
---
<![if !supportEmptyParas]> <![endif]>