Providence
<![if !supportEmptyParas]> <![endif]>
A Fig for a Kiss
<![if !supportEmptyParas]> <![endif]>
Rolling River RoRi CD 002; 49 minutes; 2001
Providence's 1999 self-titled debut album demonstrated a quintet eager to swim against the tide of current Irish traditional music. Recent years have seen the rise of the pace merchants, hammering out jigs and reels as fast as their fingers or lungs will let them and losing a grasp of the tradition as a consequence, since such speed reduces the potential for intricate melodic variation. In contrast, Providence never let subtlety be subordinate to alacrity, drawing deep from their collective roots to offer a potent blend of tunes and songs. <![if !vml]>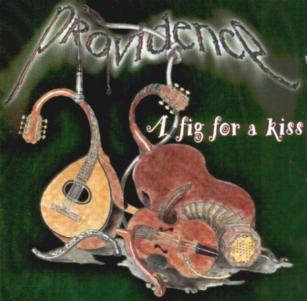 <![endif]>
<![if !supportEmptyParas]> <![endif]>
Nowhere is this more evident than on The Curlew Hills/Father Dollard's, a couple of rolling hornpipes, where the fiddle of the band's latest recruit, Clodagh Boylan, meshes seamlessly with John Wynne's flute and the concertina of Micheál Ó Raghallaigh. Ó Raghallaigh's warm, yet frisky playing characterises much of the Providence sound, given extra depths by the guile of Paul Doyle's ever-supportive guitar and bouzouki. In contrast, when a tune requires added spark, such as a set of slip jigs kicked off by The Arragh Mountains or an airing of the band's 'signature tune' The Providence Reel, it's generated by the innate ebullience of their playing.
<![if !supportEmptyParas]> <![endif]>
Yet, like many an Irish band (most notably Altan or Dervish), there are two sides to Providence. On the one hand, there's the masters of traditional tunesmithery and, on the other, there's the band that supports singer Joan McDermott. A noted song researcher, there are five outings here for the ex-Fallen Angels bright and breathy vocals, including a comic love song in Irish, Muiris Ó Coinnleáin, and Smuggling the Tin, learned from the renowned Dublin singer, the late Liam Weldon.
<![if !supportEmptyParas]> <![endif]>
Finally, as a taster for their superb live performances, Providence are caught in the act playing a set of reels recorded on a recent Scottish tour. You'd be well advised to catch this album too.
<![if !supportEmptyParas]> <![endif]>
---
This review by Geoff Wallis was originally written for Songlines magazine – www.songlines.co.uk/.
For more information about Providence visit www.providence-trad.com.
<![if !supportEmptyParas]> <![endif]>
---
<![if !supportEmptyParas]> <![endif]>
<![if !supportEmptyParas]> <![endif]>
<![if !supportEmptyParas]> <![endif]>
<![if !supportEmptyParas]> <![endif]>