The Raineys
<![if !supportEmptyParas]> <![endif]>
Pavee Point Travellers Centre PPCD003; 41 minutes; 2006
<![if !supportEmptyParas]> <![endif]>
---
<![if !supportEmptyParas]> <![endif]>
<![if !vml]>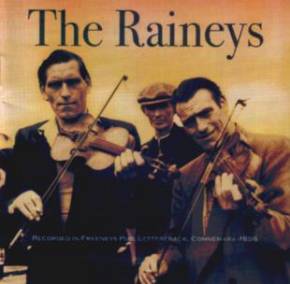 <![endif]>Electricity reached many rural parts of Ireland late and it was not until 1956 that western Connemara became connected to the grid. Tony Knowland, an English university lecturer, holidayed regularly in the area and decided to take advantage of the newly arrived juice by purchasing a tape recorder to capture the playing of local musicians.
<![if !supportEmptyParas]> <![endif]>
Amongst those recorded were members of a Traveller family, the Raineys, who based themselves in Tuam during the winter months but toured the fairs and markets of Connemara during the summer. Said members were taped at Freeneys pub in Letterfrack and consisted of Paddy, known as 'Big Rainey', and his brother Stephen (who went by the nickname of 'Spare Parts') while Paddy's wife Bridie provided the songs. The two brothers played the fiddle, though Paddy's instrument was somewhat decrepit and his bow 'was strung not with horse-hair but what looked like carpet-thread, fastened to the heel through a cotton-reel nailed on it'.
<![if !supportEmptyParas]> <![endif]>
No matter the instrument, however, the Raineys produced music of raw and driven intensity, either in unison or harmonising, as their version of the reel The Fermoy Lasses amply illustrates. Even their waltzes, of which they seemed particularly fond, paint a rich emotional tapestry while jigs such as The Lark on the Strand are instant toe-tappers. Meanwhile Bridie provided three songs in that strident, florid but ever enjoyable style characteristic of Traveller vocalists.
<![if !supportEmptyParas]> <![endif]>
These historically important and utterly vital recordings encapsulate not only the wild spirit of the Raineys' music, but the enjoyment of those sharing the experience in the pub, and are enhanced by a superbly designed liner booklet and extraordinarily clear 'cleaning' of the original tapes.
<![if !supportEmptyParas]> <![endif]>
---
<![if !supportEmptyParas]> <![endif]>
This review by Geoff Wallis was written for Songlines magazine – www.songlines.co.uk.
<![if !supportEmptyParas]> <![endif]>
For more information about Pavee Point visit www.paveepoint.ie.
<![if !supportEmptyParas]> <![endif]>
---
<![if !supportEmptyParas]> <![endif]>
<![if !supportEmptyParas]> <![endif]>
---
<![if !supportEmptyParas]> <![endif]>
<![if !supportEmptyParas]> <![endif]>
<![if !supportEmptyParas]> <![endif]>
<![if !supportEmptyParas]> <![endif]>
<![if !supportEmptyParas]> <![endif]>
<![if !supportEmptyParas]> <![endif]>
<![if !supportEmptyParas]> <![endif]>
<![if !supportEmptyParas]> <![endif]>
<![if !supportEmptyParas]> <![endif]>