Richie Dwyer
<![if !supportEmptyParas]> <![endif]>
In a Creative Mood
<![if !supportEmptyParas]> <![endif]>
Cailroe Records; 2002
<![if !supportEmptyParas]> <![endif]>
<![if !supportEmptyParas]> <![endif]>
County Cork man Finbarr Dwyer was a highly regarded 1960s/1970s Paddy "Nenagh" O'Brien B/C-style box player. He released several albums on Belfast's Outlet label (some of which shared tracks). One album is called Ireland's Champion Accordionist, but he is not listed as an All-Ireland winner by Comhaltas Ceoltóirí Éireann. Nevertheless, he is regarded as very influential player because of those recordings<![if !supportFootnotes]>[1]<![endif]>. He also composed some exceptional reels including Berehaven. In many ways his was a classic style of box playing. <![if !vml]>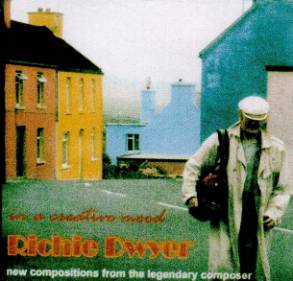 <![endif]>
<![if !supportEmptyParas]> <![endif]>
Now his brother Richie, whom I understand has spent many years in America (mainly in New York) has released a CD, recorded in Cork in October 2002. All the tunes are self-composed, including some of which have passed into the tradition. The Dwyers have named a lot of their tunes after places around their home territory of the Beara Peninsula in southwest Ireland e.g. Bere Island Lasses, Black Rose of Beara, Cailroe Ramblers, Return to Cailroe (an answer to Finbarr's well-known Farewell to Cailroe?). The album's sixteen tracks consist entirely of jigs and reels and it is interesting that these boys play the way they do and play the stuff they do when you consider that they are from the middle of slide/polka country. Richie plays a good B/C style himself, in a wee bit strange, slightly jerky fashion. According to the liner notes he also plays fiddle, whistle and guitar. He is ably accompanied on this album by Michael O'Rourke on piano. The album is certainly worth a listen.
<![if !supportEmptyParas]> <![endif]>
The only contact given is an incomplete e-mail address. A web search for Cailroe Records found nothing so it looks like a self-produced job and may not be generally available. I received the review copy from a friend who bought it at a Fleadh. Nevertheless accordion enthusiasts generally and especially fans of the other Dwyer, may want to seek this one out.
---
<![if !supportEmptyParas]> <![endif]>
This is an original review by Seán Quinn.
<![if !supportEmptyParas]> <![endif]>
---
<![if !supportEmptyParas]> <![endif]>
<![if !supportEmptyParas]> <![endif]>


 

<![if !supportLineBreakNewLine]>
<![endif]>
<![if !supportEmptyParas]> <![endif]>