The Tap Room Trio
<![if !supportEmptyParas]> <![endif]>
Phaeton SPINCD1007; 44 minutes; 2003
<![if !supportEmptyParas]> <![endif]>
In recent years several prominent younger Irish musicians have sought to reinvigorate their tradition by rediscovery of its past, implicitly rejecting any borderline experimentation with other musical genres and returning to the musical purity expressed by their illustrious predecessors. One thinks, for example, of Oisín Mac Diarmada's exploration of the music of South Sligo on Ar an bhFidil or Caoimhín Ó Raghallaigh's glorious evocations of the Sliabh Luachra fiddle tradition. Now comes The Tap Room Trio, a threesome consisting of Belfast-born flute and piccolo player Harry Bradley, Baltimore's Jesse Smith (formerly of Danú, but now based in County Galway) on fiddle and London's John Blake, another now living in the West of Ireland, providing guitar and piano accompaniment (and also giving his flute a rare outing too). <![if !vml]>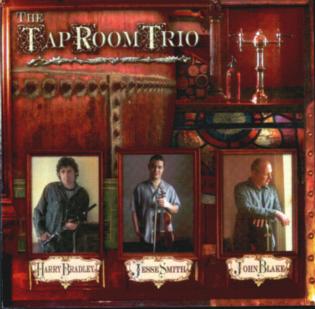 <![endif]>
<![if !supportEmptyParas]> <![endif]>
Purists will be delighted that this self-titled debut album is both a bodhrán- and bouzouki-free zone, but far more likely to bring a smile to their faces is the this release's astonishing invocation of the spirits of the Sligo greats who recorded in the USA in the first half of the twentieth century. Bradley and Smith are inspired by the effervescent flute-playing of John McKenna and the massively influential fiddlers Michael Coleman and James Morrison, although it's the last-named musician's duet recordings with McKenna and the Galwegian accordionist P.J. Conlon which serve as the strongest reference point.
<![if !supportEmptyParas]> <![endif]>
There's an astonishing lift and drive to their music and, at times, a dazzling degree of precision in evidence, particularly on the highland Music at the Gate or a combination of Paddy Taylor's barndance and The Glenconwell Hornpipe. All the while John Blake's stature increases as an accompanist par excellence. This really is a mighty recording and one that will inspire future generations of musicians in its own right.
<![if !supportEmptyParas]> <![endif]>
Author's note
<![if !supportEmptyParas]> <![endif]>
Harry Bradley posted a message to the IRTRAD-L newsgroup in August 2003 (after the above review had been completed) which concluded with the following paragraph, whose last clause aptly sums up the very nature of this fine release:
<![if !supportEmptyParas]> <![endif]>
"I am not advocating everyone's dogged adherence to a particular style here. But as players such as Jesse Smith, John Carty, Paul Brock and Máirtín O'Connor prove (to mention but a few) - a deep and first-hand knowledge of what went before is a powerful tool in doing what the great Irish musicians have rejoiced in doing for centuries: reinventing the past for the present."
<![if !supportEmptyParas]> <![endif]>
---
<![if !supportEmptyParas]> <![endif]>
This review by Geoff Wallis first appeared in fRoots magazine – www.frootsmag.com.
The Phaeton label is distributed by Claddagh - www.claddaghrecords.com..
---
<![if !supportEmptyParas]> <![endif]>
<![if !supportEmptyParas]> <![endif]>
<![if !supportEmptyParas]> <![endif]>
<![if !supportEmptyParas]> <![endif]>