Traditional Dance Music of Ireland
<![if !supportEmptyParas]> <![endif]>
Saydisc CD-SDL 420; 75 minutes; 1997
<![if !supportEmptyParas]> <![endif]>
<![if !supportEmptyParas]> <![endif]>
During the 1990s the Gloucestershire based Saydisc label released a number of CDs drawing upon Peter Kennedy's recordings of traditional music taped during the 1950s and 1960s and subsequently issued in cassette format by Kennedy on his own Folktracks label (later renamed Folktrax). Field recordings made then regularly suffered from poor sound quality, so it is pleasing that the original reel-to-reel recordings which constitute this album have been partially cleaned up through transfer to Digital Audio Tape (though they might still benefit from further treatment).
<![if !supportEmptyParas]> <![endif]>
<![if !vml]>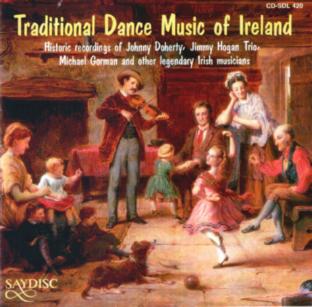 <![endif]>Traditional Dance Music of Ireland is the best of Saydisc's Irish releases by some stretch and the reason consists of two words: John Doherty. As owners of the RTÉ album The Donegal Fiddle will already know, Doherty was at the peak of his powers in the 1950s and the evidence is here on ten of this album's thirty-seven tracks, even if all, bar one, are just over one minute long. One such is the stunning last figure of The Lancers quadrille, closely followed for sheer finesse by the reel Stormy Weather where John's bow does not so much float as catch fire! Later on the album there is a real rarity – a Doherty polka, The Dark Girl Dressed in Blue – and I might be incorrect, but I cannot find another example on any of his albums of this particular dance-form. His glorious version of the reel Lord Gordon's is also adequate reason alone to purchase this album.
<![if !supportEmptyParas]> <![endif]>
Most of the other musicians pale by comparison, although there is an excellent sample of Michael Gorman's playing on Carracastle Lasses and a fine example of solo flute-playing by Paddy Taylor on Down in the Glen a tune which is bizarrely described in the track listings as 'Reel or Hornpipe' when it is quite obviously the former. Another rarity is a piece of solo whistling by John Maguire (father of Seán) while another whistler to appear is the Clare-born Paddy Breen, although 'whistler' is slightly inaccurate since the notes describe him as playing 'a rather unusual vertical Orcon flageolet, which produced a sound more mellow than the tin-whistle'. As if to prove it, Séamus Ennis appears directly afterwards playing a standard whistle on Music at the Gate.
<![if !supportEmptyParas]> <![endif]>
There are also a couple of Northern fiddlers who do not, as far as I am aware, appear on any other currently available CD. These are the very smooth sounding Johnny Pickering who was recorded at Markethill, Co, Armagh, and Tom Turkington who hailed from Cookstown, Co. Tyrone, and played with a very stylish, almost ringing tone. [Editor's note: Two tracks by Johnny Pickering subsequently appeared on the Gael Linn Seoltaí Séidte double CD.]
<![if !supportEmptyParas]> <![endif]>
---
<![if !supportEmptyParas]> <![endif]>
This is an original review by Geoff Wallis.
<![if !supportEmptyParas]> <![endif]>
---
<![if !supportEmptyParas]> <![endif]>