<![if !supportEmptyParas]> <![endif]>
<![if !supportEmptyParas]> <![endif]>
Wooden Flute Obsession
<![if !supportEmptyParas]> <![endif]>
International Traditional Music Society ITMS 0201; 2CDs; 142 minutes; 2002
<![if !supportEmptyParas]> <![endif]>
<![if !supportEmptyParas]> <![endif]>
'40 artists, 85 tunes, 1 passion' proclaims this enthralling compilation of traditional and modern Irish flute music and its impossible to refute the statistics related to this very welcome collection, the first of its kind.
<![if !supportEmptyParas]> <![endif]>
The title's obsessive is the album's compiler, Kevin Krell, who tracked down recordings and chivvied this plethora of musicians and labels into contributing. His aim was to encompass a 'variety of repertoire, regional styles, and individual expressive techniques of tempo, tune, articulation, and phrasing' and, to a very large extent, was successful in so doing. <![if !vml]>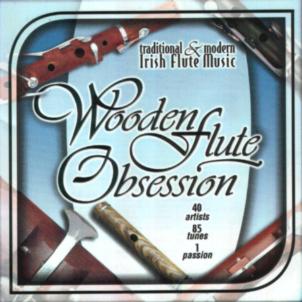 <![endif]>
<![if !supportEmptyParas]> <![endif]>
As ambitious a project as this naturally has its pitfalls. Compilations always evoke complaints about omissions and there are notable absentees (including Desi Wilkinson, Kevin Crawford, Emer Mayock, Peter Horan and Conal Ó Grada). The reasons vary – some musicians or labels did not respond, others refused to participate or there were legal restrictions on use. The absence of older players is explained either by the poor sound quality of their recordings or the lack of a release currently available in CD format. One major musical downside was that Kevin allowed the musicians to select their own tracks which resulted in a preponderance of reels and far too few other tune types.
<![if !supportEmptyParas]> <![endif]>
Whatever the case, it's impossible to quibble with a selection which juxtaposes the great Séamus Tansey with his pupil Barry Kerr or the late Frankie Kennedy of Altan next to the Breton Jean-Michel Veillon (appropriately recorded live in Kennedy's birthplace of Belfast). Intoxication, exhilaration and exploration characterise this absolute box of delights – buy now while stocks last!
<![if !supportEmptyParas]> <![endif]>
---
This review by Geoff Wallis was originally written for Songlines – www.songlines.co.uk.
For more information about the CD visit www.worldtrad.org. 
---