Cran
The Crooked Stair
Black Rose Records BRRCD001; 49 minutes; 2005 remastered reissue
<![if !vml]>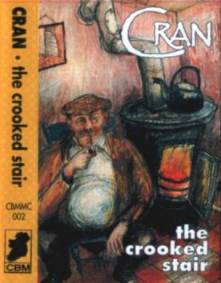 <![endif]>The reissuing of Cran's debut album The Crooked Stair has been remarkably unheralded and more's the pity. According to the original release it was released in 1993 by the Cross Border Media label whose owner assumed the copyright under the company name of Dog Publishing (and certain tracks would later be licensed to other labels without the band's knowledge or permission – indeed on one compilation the band's name was even replaced by some now forgotten pseudonym!). The scan opposite is of the original cassette release whose striking cover image was painted by the Belfast artist Rita Duffy and features a depiction of the character Fiollaigean, the central figure in the Scots Gaelic song of the same name which forms track five of the album and also provides its title: The stair and the mirror was crooked, likewise the bedroom of Fiollaigean.
<![if !supportEmptyParas]> <![endif]>
Though the cassette's liner clearly bears the date of 1993, the reissue's liner booklet and tray liner both refer to The Crooked Stair being recorded in 1994 and first issued in 1995. One wonders which is correct (and contact will be made with the band to ascertain the answer).
<![if !supportEmptyParas]> <![endif]>
The new edition of the album, which was mastered by current band member Ronan Browne in cahoots with Ciarán Byrne also carries an updated painting by Rita Duffy on its cover, described on the tray liner as depicting 'a perhaps older and wiser Fiollaigean, reflecting on his years of harrowing world-wide journeying through labyrinths of exotic and unknown labels', a pungent barb directed at the owner of the Cross Border Media label.
<![if !supportEmptyParas]> <![endif]>
<![if !vml]>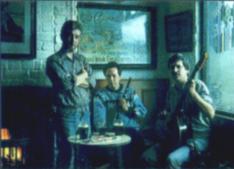 <![endif]>Copies of the original album included a tiny photograph of the band (at least, it's tiny on the cassette copy) sitting in the front bar of the old Rotterdam in Belfast. From left to right the three members are a somewhat insouciant Neil Martin (uilleann pipes, cello, whistles, keyboards, synth, backing vocals), an Alpine-sweater-clad Desi Wilkinson (flute, whistles, fiddle, highland pipes, vocals, percussion, lilting) who seems to be about to confront the photographer, and Seán Corcoran (vocals, Irish bouzouki, guitar) who appears, somewhat tentatively, to be ready to join the resulting affray.
<![if !supportEmptyParas]> <![endif]>
The new edition has a somewhat gentler photograph from obviously the same series of shots (clearly dated 1993). Neil and Seán bear the expressions of men replying negatively to the question "Did anyone order a cab?" (raised often at both the old Rotterdam and its replacement) while Desi clearly remains very proud of his Alpine-patterned sweater and will challenge anyone who doubts its fashion potential.
<![if !supportEmptyParas]> <![endif]>
<![if !vml]>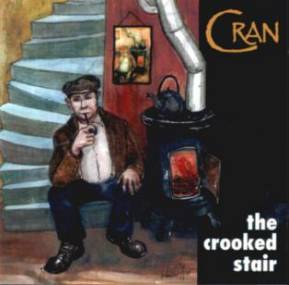 <![endif]>As for the music, well it remains utterly fantastic, though (much as they've tried) Browne and Byrne haven't been able to eradicate entirely the original mix's somewhat tinny quality. There are some fabulous songs, including a tremendous rendition of When a Man's in Love (whose quality is enhanced by Neil's resonant cello), the wondrous Fiollaigean itself (given macaronic quality by the inclusion of then newly-translated English versions after each Scots Gaelic verse), and a rendition of Seán Bán whose atmospheric quality provides a foretaste of the joys to come on subsequent albums. The last named also includes a fascinating Highland piped rendition of the reel Lexie MacCasgill from Desi.
<![if !supportEmptyParas]> <![endif]>
Then there's a sumptuous unaccompanied reading of the Omeath, County Louth version of Dúlamán, leading neatly into a highland learnt from the Donegal fiddler Charlie O'Neill (featuring perky flute from Desi and jaunty pipes from Neil), and joyful singing of Laugh and Half-Daft, which comes from one of Seán's mentors, Mary Ann Carolan.
<![if !supportEmptyParas]> <![endif]>
The instrumental tracks are ever invigorating and include a Corsican waltz, learnt by Desi from the guitarist Gilles Le Bigot during his stint in Brittany, and a blend of Irish and Eastern European tunes reminiscent of Planxty in the form of An Dro/Romanian Rollick, as well as a sparkling set of melodies, kicked off by The Boys of Belfast, which owe their origins to the fife bands who perform during Orange parades – The Girls of Belfast sees Neil's piping in Belfast-Newry mode – that's A1, in case you're not familiar with Northern Ireland's major thoroughfares.
<![if !supportEmptyParas]> <![endif]>
Add to that a set of reels featuring The Ivy Leaf which clearly acts as a precursor to arrangements on later Cran albums, albeit that it's played at a ferocious pace, the delicious slow air Tiarna Randal (Wilkinson flute in full soaring mode), and, lastly, a frenetic trio of reels, including The Copperplate, played by Desi and Neil on the old Clarke's 'C' tin whistle and joy remains unbound. If you've never played said instrument, then be aware that its mouthpiece featured a wooden fipple guaranteed to soak up the player's saliva and produce a remarkably spongiform texture which often inhibited rapid playing.
<![if !supportEmptyParas]> <![endif]>
It was not until 1998 that Cran released a second album (the truly remarkable Black. Black, Black), by which time Ronan Browne had stepped into Neil Martin's shoes, though retaining the band's decidedly East coast ambience, but The Crooked Stair reveals a trio clearly at one with itself and remains a captivating recording. Buy yours while stocks last.
<![if !supportEmptyParas]> <![endif]>
---
This is an original review by Geoff Wallis.
For more information about Cran - www.cranmusic.com.
---
<![if !supportEmptyParas]> <![endif]>