John Doherty – an introduction
<![if !supportEmptyParas]> <![endif]>
This article includes information on all the known commercial releases which feature the music of the Donegal fiddler John Doherty. A full track listing is included at the very bottom of the page.
<![if !supportEmptyParas]> <![endif]>
The Donegal fiddler John (sometimes Johnny Doherty) was often recorded during his long lifetime (c.1895 to 1980). The earliest recordings available date from 1953 and were made by Peter Kennedy who has subsequently issued three cassettes of material from those and later sessions (one of which also features his brother Mickey). Ten tracks from those recordings have also been included in the Saydisc Traditional  Dance Music of Ireland CD, including a real rarity, a John Doherty polka, The Dark Girl Dressed in Blue. <![if !vml]>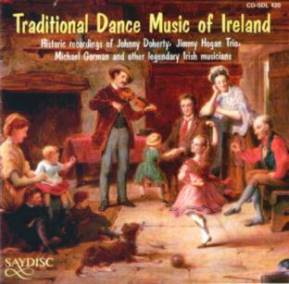 <![endif]>
<![if !supportEmptyParas]> <![endif]>
Those three cassettes are still available directly from Peter Kennedy's Folktrax label. Now is not the time to revisit the many debates surrounding the recordings issued by Folktrax (once called Folktracks), but anyone interested in learning how the first Doherty recordings were made should turn to Paddy Tunney's excellent book The Stone Fiddle. According to Peter Kennedy's own notes for the Saydisc CD, Doherty kept his "recording machine, running off car batteries that had to be constantly recharged, working all day and night for over a week without ever repeating a tune". That might seem hard to believe, but there is ample evidence from the whole Doherty opus that the fiddler knew several hundred tunes.
<![if !supportEmptyParas]> <![endif]>
Those recordings were made in the days when John was living in the Blue Stack mountains and, chronologically, the next items of interest date from July 1957 and were recorded by Ciarán Mac Mathúna for Radio Éireann. <![if !vml]>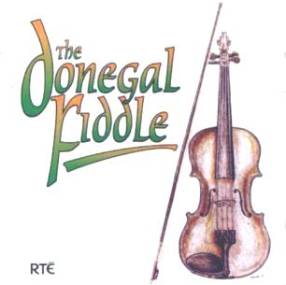 <![endif]>
Three of those pieces appear on The Donegal Fiddle, issued by RTÉ some time during the 1990s and include a rare recording of a duet with his brother Simon on The Pigeon on the Gate.
<![if !supportEmptyParas]> <![endif]>
The first album proper to be devoted entirely to John's music dates from 1964 and was issued by the English Folk Dance and Song Society. Sadly, for reasons unknown, this has never been reissued as a compact disc, but the album includes several tunes often associated with John's playing, such as The Four Posts of the Bed, the wonderful strathspey Grey Daylight, which features perhaps John's best-known speedy run down the strings, and his marvellous rendition of The Blackbird. Then, of course, there's that Doherty family party piece, The Fox Chase/The Hunt of the Hare, which is not so much an impression on the fiddle of the whoops and halloos of the hunters and their dogs, but an imitation of how said activity might have sounded when played on the uilleann pipes. The album also reminds us, via, for instance, Moorlough Mary, that John was also a keen and accomplished singer. (Apologies for the lack of a cover scan.)
<![if !supportEmptyParas]> <![endif]>
The next album to appear was 1974's Johnny Doherty, issued by Comhaltas Ceoltóirí Éireann and produced by Séamus Mc Mathúna. <![if !vml]>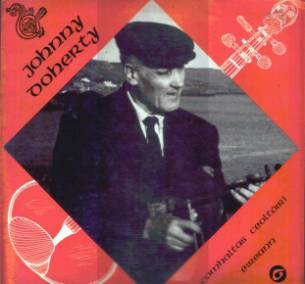 <![endif]>
<![if !supportEmptyParas]> <![endif]>
In many ways, since the EFDSS LP had not been easily available, this was the album which introduced John Doherty's playing to the Irish traditoinal music world. The impact of tunes such as his fiery rendition of Trim the Velvet (a reel that has probably never been played better either before or since) was so strong that, for a while, Doherty came to epitomize Donegal's music within the public arena.
<![if !supportEmptyParas]> <![endif]>
Moreover, John proved to be a marvellous raconteur, introducing several tunes on the album in typically piquant fashion. As for those tunes, they represent a stupendous exemplification of just how exciting Doherty's music could be. Whether it was An Old Donegal Mazurka or a more familiar tune, such as Gusty's Frolics, the sheer vitality of John's playing marked the fiddler as simply a man apart. While Michael Coleman might have laid his hallmark upon the reel Bonny Kate, to these ears it is John Doherty's version which captures all the tune's vibrancy.
<![if !supportEmptyParas]> <![endif]>
Again, unfortunately, CCÉ has never reissued the album as a compact disc, though it was available for some time in cassette format, albeit with a badly reproduced copy of the original album's cover and minus all of Frances Rohleder's very down-to-earth notes.
<![if !supportEmptyParas]> <![endif]>
Happily, the next venture in the Doherty cycle has been reissued and is still currently available. Gael Linn's original double LP was simply called John Doherty and appeared in 1978, compiling recordings dating from a session organised by Francis Rohleder (John's niece) in either 1974 or 1975 (the CD claims the former while the LP's sleeve notes state the latter). When reissued in the 1990s, the CD acquired the title 'Taisce', meaning 'hoard' or 'treasure' and the original line-drawing by T.P. Flanagan had been replaced by a somewhat jazzed up version of one of the monochrome photographs which had originally appeared on the album's rear sleeve.<![if !vml]>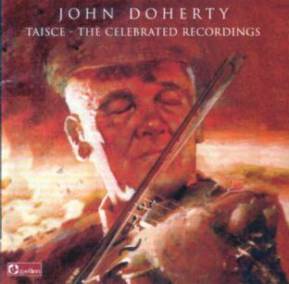 <![endif]>
<![if !supportEmptyParas]> <![endif]>
Fortunately, Danny O'Donnell's original sleeve notes had been left intact, although poor editing meant that the notes on the penultimate track, Miss Cunningham, were omitted. Additionally, in order to squeeze all the music into a single CD, John's illuminating account of how he first took up the fiddle at the age of sixteen was also left on the cutting-room floor and, sacrilegiously, the unknown air which led into the Stirling Castle strathspey has also been wiped.
<![if !supportEmptyParas]> <![endif]>
John was almost eighty years of age at the time of the recording and living in Carrick. His glorious technique is still immediately apparent, as evinced by McFarley's reel (sometimes known as 'The Maids of Castlebar'), but, clearly, and who wouldn't forgive him, some of the fire in his belly has dissipated over the years.  Nevertheless, he was still keen to exhibit the technical ability which allowed him to race through The High Level hornpipe as if playing in the unusual key of B flat were akin to putting the cat out in the morning.
<![if !supportEmptyParas]> <![endif]>
Next on the agenda comes Bundle and Go, which remains probably John's most well-known recording. Originally issued by Topic in 1980, the recordings were made by Allen Feldman as part of his research leading to The Northern Fiddler book and issued shortly after John's death. The album has been licensed to Green Linnet for CD issue for some time.
<![if !supportEmptyParas]> <![endif]>
The recordings themselves were actually made in 1977 when John was in his early eighties and he used a fiddle borrowed from Danny O'Donnell.<![if !vml]>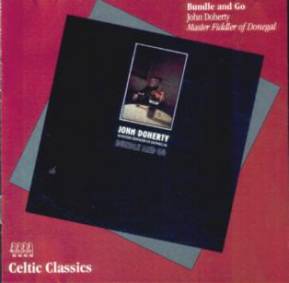 <![endif]>
<![if !supportEmptyParas]> <![endif]>
Feldman notes that "An attempt has been made in the selection of perfomances to emphasize the more archaic aspects of Doherty's repertoire" and therein lies part of the problem with Bundle and Go. Indeed, Feldman's sleeve notes veer far too much towards an ethnomusicological understanding of John's music, rather than attempting to analyse either the nature of his playing or its impact. What is one, for instance, to make of a claim such as this of Doherty, 'He contained apparently contradictory oppositions of counterpoints that lent a metaphorical quality to his life and art'?  Then try this one: 'The morphology of men like John Doherty, Willy Clancy or Séamus Ennis is unclear.'  Perhaps such 'morphology' is somewhat clearer than Feldman's infuriatingly obscurantist notes.
<![if !supportEmptyParas]> <![endif]>
There is also the somewhat unhelpful fact that, just as in The Northern Fiddler, several tracks have been listed as 'untitled' when they could have been readily identified by someone more knowledgable and that at least one tune has had its title garbled.
<![if !supportEmptyParas]> <![endif]>
Many of the tunes recorded on Bundle and Go are sadly inferior in their renditions to earlier releases. Sure, the technical mastery is still there, but the spirit is diminished, but that's hardly surprising considering John's age at the time.
<![if !supportEmptyParas]> <![endif]>
Bundle and Go remains the poorest of the three CDs available which are entirely devoted to John Doherty's playing (but, in stating that point, it should also be made very clear that there is no such thing as a bad or even a mediocre John Doherty album – Bundle and Go is simply the least excellent!). This applies especially in comparison to the final collection of his music, The Floating Bow. This was released by Claddagh in 1996 and consists of recordings made by Alun Evans between 1968 and 1974. Though a medical student when he first started recording John, Evans was fortunate to possess a state-of-the-art Akai reel-to-reel stereo recorder which means that the general sound quality his efforts is generally much higher than other contemporary field recordings. The fact that these recordings, made at a farmhouse in Glenconwell, were subsequently transferred from tape by Glenn Cumiskey (then of the Irish Traditional Music Archive) certainly enhances the listening process (especially as Glenn himself has a great love for Donegal's fiddle music).
<![if !supportEmptyParas]> <![endif]>
<![if !vml]>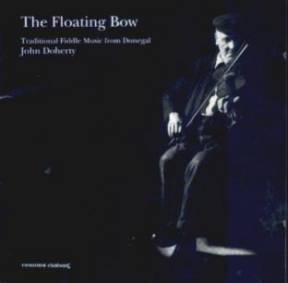 <![endif]>However, The Floating Bow has retained a certain degree of controversy since its release. This relates to the following section of Evans's liner notes:
<![if !supportEmptyParas]> <![endif]>
John made these recordings for me saying that they were only for my ears. I hope I have not betrayed this trust, but I think it is only proper that the quality of his playing should be fully appreciated. Of course, these are not the only recordings of John, but they were made in a natural setting, under minimal stress at a time when he was playing at or near his best. John played my fiddle, an 18th century instrument which I acquired from Brian [O'Donnell, then Northern Chair of CCÉ], and I think he would have agreed that these particular tapes have now matured sufficiently.
<![if !supportEmptyParas]> <![endif]>
It would be fair to say that there are some who do believe that Doherty's trust was broken by the release of these private recordings. On the one hand, if John considered that they were essentially a private gift, then, morally, there has been a breach of trust. Unlike the Bundle and Go recordings for which Allen Feldman paid John a fee, clearly the fiddler would not have viewed his relationship with Evans as being bound by commercial concerns. The converse argument would take into account the fact that The Floating Bow was not released until sixteen years after John's death and that Claddagh's package has been sensitively compiled, features a long essay by Evans (which might have been improved by the use of paragraph indentation) and detailed tune notes by the album's producer, Dermot McLaughlin. Then there is the aesthetic consideration that these recordings are so much better than either the Gael Linn or Topic/Green Linnet releases in terms of the quality of Doherty's playing.
<![if !supportEmptyParas]> <![endif]>
Obviously, the issue is complex, but might seem irrelevant to contemporary CD purchasers since the material has been in the public domain now for eight years and such is its innate beauty. Doherty's playing is simply dazzling throughout, whether it be his very personalised rendition of The Wind That Shakes the Barley, his unusual combination of a double jig (The Lancers) and a slip jig (The Silver Slipper), his stunning version of the strathspey King George IV or his very peculiar, but ever effective, transformation of The Coolin from an air to an upbeat march. His renowned abilities as a dance accompanist are encapsulated by the highland Tom Tailor's and The Enniskillen Dragoons features a wondrous pipes imitation achieved via changing the fiddle's tuning and using one string as a drone.
<![if !supportEmptyParas]> <![endif]>
Whatever the case there is no doubting that John Doherty's passing in 1980 represented the end of an era. The Dorans have often been called 'the last of the travelling pipers' and, unquestionably, John was the last of the itinerant fiddlers. His influence lives on in Donegal and further afield and perhaps it is best to leave the last word to his friend Caoimhín MacAoidh:
<![if !supportEmptyParas]> <![endif]>
On a Monday morning in late January, 1980 I called in to see him and we parted with him thundering out 'The Black Fanad Mare' with the energy of a teenager. He died peacefully, the following Thursday. On the following freezing Saturday he was buried in Fintown Cemetery. The mass, which was especially broadcast live on Radió na Gaeltachta sent out the message that one of the greatest traditional musicians and possessors of folklore had passed on. The bitterly icy conditions made travelling an impossibility for the great numbers who wished to pay their respects at his funeral. A small group that gathered in the Welcome Inn pub outside Fintown paid suitable compliment to John. After a drink, a single fiddle was produced and given to Vincent Campbell. He hammered out a reel in honour of John then spotted another player to whom he handed the instrument. He played a tune then passed on the fiddle. After a while it was discovered that the only ones in the house who could not play were the barman and the three women present. Eventually fiddles appeared from under coats, beneath seats, the backs of cars and a massive musical testimony to one of the giants of Irish music ensued. (Between the Jigs and the Reels, Drumlin Publications, 1994, pp. 239-240).
<![if !supportEmptyParas]> <![endif]>
Geoff Wallis
<![if !supportEmptyParas]> <![endif]>
5th October, 2004
<![if !supportEmptyParas]> <![endif]>
---
<![if !supportEmptyParas]> <![endif]>
Click on the appropriate links to visit the sites of Claddagh Records, Gael Linn or Green Linnet.
<![if !supportEmptyParas]> <![endif]>
---
<![if !supportEmptyParas]> <![endif]>
<![if !supportEmptyParas]> <![endif]>
<![if !supportEmptyParas]> <![endif]>
Traditional Dance Music of Ireland
<![if !supportEmptyParas]> <![endif]>
Saydisc CD-SDL 420; 1997
<![if !supportEmptyParas]> <![endif]>
John Doherty appears on the following tracks:
<![if !supportEmptyParas]> <![endif]>
2. Gusty's Frolics
7. Please Give a Penny to the Poor Old Man
8. Stormy Weather
13. New Lough Isle Castle
14. Marry When You're Young
15. Lord Gordon's
23. The Salamanca
24. The First of May
27. The Dark Girl Dressed in Blue
28. The Floggin' Reel
<![if !supportEmptyParas]> <![endif]>
The Donegal Fiddle
<![if !supportEmptyParas]> <![endif]>
RTÉ CD 196; undated
<![if !supportEmptyParas]> <![endif]>
John features on three tracks:
<![if !supportEmptyParas]> <![endif]>
            35. Píobaire a Chéididh
            36. The Pigeon on the Gate (with Simon Doherty)
            37. Slán le Ceol
<![if !supportEmptyParas]> <![endif]>
Pedlar's Pack
<![if !supportEmptyParas]> <![endif]>
EDFSS LP 1003; 1964
<![if !supportEmptyParas]> <![endif]>
<![if !supportLists]>1. <![endif]>Grey Daylight
<![if !supportLists]>2. <![endif]>The Blackbird
<![if !supportLists]>3. <![endif]>The Atlantic Sounds (aka The Atlantic Roar or Tuam na Farraige)
<![if !supportLists]>4. <![endif]>Moorlough Mary
<![if !supportLists]>5. <![endif]>The Postman's Knock
<![if !supportLists]>6. <![endif]>The Girl's Croon
<![if !supportLists]>7. <![endif]>The Exhibition Waltz
<![if !supportLists]>8. <![endif]>Talk about Father McSweeney's reel
<![if !supportLists]>9. <![endif]>The Fox-Chase/The Hunt of the Hare
<![if !supportLists]>10. <![endif]>Rocking the Cradle
<![if !supportLists]>11. <![endif]>Dark Girl Dressed in Blue/The Irish Washerwoman
<![if !supportLists]>12. <![endif]>The Wounded Hussar
<![if !supportLists]>13. <![endif]>The High Level/Madam Vanoni
<![if !supportLists]>14. <![endif]>The Old Hag and the Churn
<![if !supportLists]>15. <![endif]>The Four Posts of the Bed
<![if !supportLists]>16. <![endif]>The Three O'Donnells
<![if !supportLists]>17. <![endif]>Welcome Home, Graniu
<![if !supportEmptyParas]> <![endif]>
Johnny Doherty
<![if !supportEmptyParas]> <![endif]>
CCÉ CL 10; 1975
<![if !supportEmptyParas]> <![endif]>
<![if !supportLists]>1. <![endif]>Highland Schottische
<![if !supportLists]>2. <![endif]>Trim the Velvet
<![if !supportLists]>3. <![endif]>The Four Posts of the Bed
<![if !supportLists]>4. <![endif]>Baile na Finne
<![if !supportLists]>5. <![endif]>Gusty's Frolics
<![if !supportLists]>6. <![endif]>The Fantastic Reel
<![if !supportLists]>7. <![endif]>Tuam na Farraige
<![if !supportLists]>8. <![endif]>Rakish Paddy
<![if !supportLists]>9. <![endif]>Miss Ramsey
<![if !supportLists]>10. <![endif]>The King of the Pipers
<![if !supportLists]>11. <![endif]>The Glen Road to Carrick
<![if !supportLists]>12. <![endif]>The Repeal of the Union/The College Groves
<![if !supportLists]>13. <![endif]>An Old Donegal Mazurka
<![if !supportLists]>14. <![endif]>Bonny Kate
<![if !supportLists]>15. <![endif]>The Lancers
<![if !supportLists]>16. <![endif]>Miss Monaghan
<![if !supportEmptyParas]> <![endif]>
John Doherty/Taisce: The Celebrated Recordings
<![if !supportEmptyParas]> <![endif]>
Gael Linn CEF(CD) 072; 1978
<![if !supportEmptyParas]> <![endif]>
<![if !supportLists]>1. <![endif]>The Salamanca/The Flood on the Holm
<![if !supportLists]>2. <![endif]>The Cat That Kittled in Jamie's Wig
<![if !supportLists]>3. <![endif]>Arthur Darley's Jig
<![if !supportLists]>4. <![endif]>Kitty's Gone a'Milking/The Dogs Among the Bushes/The Merry Sisters
<![if !supportLists]>5. <![endif]>My Love She's But a Lassie Yet
<![if !supportLists]>6. <![endif]>Green Grow the Rushes-o
<![if !supportLists]>7. <![endif]>The Hen's March over the Midden
<![if !supportLists]>8. <![endif]>McFarley's Reel
<![if !supportLists]>9. <![endif]>Talk on learning the fiddle and his father's criticism (omitted from CD version)
<![if !supportLists]>10. <![endif]>Bonny Kate
<![if !supportLists]>11. <![endif]>The Bluebells of Scotland
<![if !supportLists]>12. <![endif]>Miss Crawford
<![if !supportLists]>13. <![endif]>The Atlantic Roar
<![if !supportLists]>14. <![endif]>Easter Snow
<![if !supportLists]>15. <![endif]>The Drunken Piper/Lough Isle Castle
<![if !supportLists]>16. <![endif]>The High Level
<![if !supportLists]>17. <![endif]>The Low Level
<![if !supportLists]>18. <![endif]>King of the Pipers
<![if !supportLists]>19. <![endif]>Talk – John's family and fellow musicians
<![if !supportLists]>20. <![endif]>Cathair Rua
<![if !supportLists]>21. <![endif]>Mammy's Plaidie/The Boyne Hunt
<![if !supportLists]>22. <![endif]>The Japanese Hornpipe
<![if !supportLists]>23. <![endif]>The Old Man Rocking the Cradle
<![if !supportLists]>24. <![endif]>The Moving Bogs/The Fairy Reel
<![if !supportLists]>25. <![endif]>The Loughside
<![if !supportLists]>26. <![endif]>The Blacksmith's Fancy/Mooney's Favourite
<![if !supportLists]>27. <![endif]>The Donegal Reel
<![if !supportLists]>28. <![endif]>The Policeman's Holiday
<![if !supportLists]>29. <![endif]>Air Gan Ainm/Stirling Castle
<![if !supportLists]>30. <![endif]>Lord Mayo
<![if !supportLists]>31. <![endif]>The Harvest Home
<![if !supportLists]>32. <![endif]>Lord Gordon's
<![if !supportLists]>33. <![endif]>Miss Cunningham
<![if !supportLists]>34. <![endif]>The Liverpool Hornpipe/The Derry Hornpipe
<![if !supportEmptyParas]> <![endif]>
Bundle and Go
<![if !supportEmptyParas]> <![endif]>
Topic 12TS 398; 1980
Green Linnet GLCD 3077; 1993
<![if !supportEmptyParas]> <![endif]>
<![if !supportLists]>1. <![endif]>Hudie Gallagher's March/Untitled reel
<![if !supportLists]>2. <![endif]>The Black Mare of Fanad
<![if !supportLists]>3. <![endif]>The March of the Meena Toiten Bull
<![if !supportLists]>4. <![endif]>Kiss the Maid Behind the Bier [sic]/The Bargain is Over
<![if !supportLists]>5. <![endif]>The 21 Highland
<![if !supportLists]>6. <![endif]>Untitled march
<![if !supportLists]>7. <![endif]>Untitled reel
<![if !supportLists]>8. <![endif]>The Paps of Glencoe
<![if !supportLists]>9. <![endif]>The Hare in the Corn
<![if !supportLists]>10. <![endif]>Untitled march
<![if !supportLists]>11. <![endif]>The Knights of St. Patrick
<![if !supportLists]>12. <![endif]>The Dispute at the Crossroads
<![if !supportLists]>13. <![endif]>Roaring Mary/Stormy Weather
<![if !supportLists]>14. <![endif]>Miss Patterson's Slippers [sic]
<![if !supportLists]>15. <![endif]>The Cat That Kittled in James' [sic] Wig
<![if !supportLists]>16. <![endif]>Welcome Home Royal Charlie
<![if !supportLists]>17. <![endif]>Darby Gallagher
<![if !supportLists]>18. <![endif]>Untitled slip jig
<![if !supportLists]>19. <![endif]>Untitled reel
<![if !supportLists]>20. <![endif]>The Teelin Highland
<![if !supportLists]>21. <![endif]>Untitled march
<![if !supportLists]>22. <![endif]>The Heathery Breeze
<![if !supportLists]>23. <![endif]>Untitled highland
<![if !supportLists]>24. <![endif]>The Monaghan Switch
<![if !supportLists]>25. <![endif]>Untitled highland
<![if !supportLists]>26. <![endif]>The Black Haired Lass
<![if !supportLists]>27. <![endif]>Paddy's Rambles Through the Park
<![if !supportEmptyParas]> <![endif]>
The Floating Bow
<![if !supportEmptyParas]> <![endif]>
Claddagh CCF31CD; 1996
<![if !supportEmptyParas]> <![endif]>
<![if !supportLists]>1. <![endif]>The Spirits of Wine/Madam Bonaparte
<![if !supportLists]>2. <![endif]>The Further in the Deeper
<![if !supportLists]>3. <![endif]>The Coolin/The Flogging Reel
<![if !supportLists]>4. <![endif]>Drops of Brandy
<![if !supportLists]>5. <![endif]>Miss Patterson's Slipper
<![if !supportLists]>6. <![endif]>The Day I Listed/The Fantastic Reel
<![if !supportLists]>7. <![endif]>Willie McLennan's
<![if !supportLists]>8. <![endif]>The Lancers Jig/Gusty's Frolicks
<![if !supportLists]>9. <![endif]>Tom Tailor's
<![if !supportLists]>10. <![endif]>Scots Mary
<![if !supportLists]>11. <![endif]>The Sligo Maid's Lament/Hand Me Down the Tackle
<![if !supportLists]>12. <![endif]>The Enniskillen Dragoons/Nóra Crionna/Píobaire an Chéideadh
<![if !supportLists]>13. <![endif]>The Cameronian
<![if !supportLists]>14. <![endif]>Dúlaman na Binne Buí
<![if !supportLists]>15. <![endif]>Within a Mile of Dublin/Old Simon's Hornpipe
<![if !supportLists]>16. <![endif]>The Glenconwell Hornpipe
<![if !supportLists]>17. <![endif]>The Mint in the Corn
<![if !supportLists]>18. <![endif]>The Highlanders/The Wind That Shakes the Barley
<![if !supportLists]>19. <![endif]>Seán sa Cheo
<![if !supportLists]>20. <![endif]>King George IV
<![if !supportLists]>21. <![endif]>The Lancers Jig/The Silver Slipper
<![if !supportLists]>22. <![endif]>The Mountain Reel
<![if !supportLists]>23. <![endif]>The Braes of Maas
<![if !supportLists]>24. <![endif]>Bonnie Kate
<![if !supportLists]>25. <![endif]>Maidin Fhómhair/Miss McLeod
<![if !supportEmptyParas]> <![endif]>
<![if !supportEmptyParas]> <![endif]>
---
<![if !supportEmptyParas]> <![endif]>
<![if !supportEmptyParas]> <![endif]>